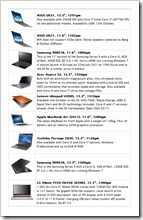 In a Fox News TV segment (embedded below) the Ultrabook gets a very important airing with Intel CEO Paul Otellini along with commentary that made me sit up and listen. In–line with an interview we did early in September [5 more Ultrabooks coming], Paul says that there will be 11 companies offering Ultrabooks this Christmas, including Sony.
OK, Let's count them. We've got Acer, Asus, Lenovo and Toshiba on board already. We believe that HP will have an offering in 2011 too. Add the revelation that Sony will offer a solution and you're left with 4 missing from the list. Let's assume Intel are pushing the boundaries out to include the Samsung Series 9 and the LG Xnote. Where are the other two coming from? Choose from MSI, Gigabyte (we believe that's a 2012 product) , Fujitsu, Dell (also believed to be a 2012 product), Packard Bell and possibly some re-brands.
Paul went on to say that there were 60 designs in the pipeline that will launch with Ivy Bridge. That's something to look forward to in Q2/Q3 2012 but surely he means SKUs. I can't see 60 different designs being launched. If they are we're going to nee help with the Ultrabook database!
Via Barrons