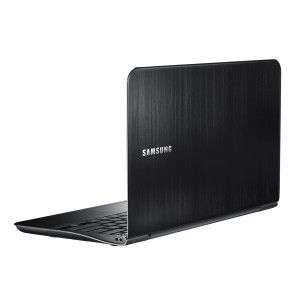 Did you take a look at the Samsung 900X1B and think hmm, 1.3Ghz with no Turbo = Not good enough? Take another look because there's a 1.6Ghz Core i5 (2467M) version on its way. You'll get turbo goodness to 2.3Ghz with the Samsung NP-900X1B-A03
The Series 9, available in 11″ and 13″ matt screen sizes, is not strictly an Ultrabook due to lack of Intel Anti Theft core but apart from that, it's a close match to the Asus UX21
We reviewed the 13″ Series 9 here.
On the minus side you have only 2GB of RAM and 64GB in the base version (we're seeing a 4GB, 128GB version too) and if the SSD is the same as I tested in the 13″ version, it's not as fast as the ASUS UX21 but it's not a slow-coach either. On the plus-side you get a MicroSD slot (it's a real shame this isn't a full-size slot but it could be useful for storage expansion if it supports SDXC), an illuminated keyboard, the same weight as the UX21 and a matt screen. USB3.0 and USB2.0 slots are included along with a mini HDMI port. An adaptor is included for 10/100/1000 ethernet. The Bluetooth variant is 3.0+HS.
Oh, and if you're looking to get the biggest battery possible in the smallest 11″ shell as possible, Samsung has done it. The 40W battery is 14% bigger than the one in the UX21.
As for the price, it looks like it could be competitive too. Pre-order prices in Austria are coming in lower than the UX21 at under 950 Euros inclusive of 20% tax. If you don't need the 128GB storage of the UX21 and have been looking for the matt display and back-lit keyboard, take a very close look at this. I'm trying to get a review sample for later this month. Note that prices are dropping across the Series 9 range.
The 900X1B is already in our database. Here's a side-by-side of the 11″  'Ultrabook' options.
Source: Geizhals  Thanks Phorsta