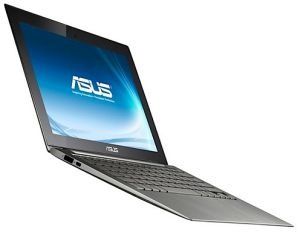 At an event in New York today, Asus presented the final model line-up, specifications, price and availability for the Zenbook (yes, a new name to confuse us all) range of UX21 and UX31 Ultrabooks. Starting price (MSRP) is $100 above the Acer S3 offering at $999 and availability is tomorrow in North America.
There are no Core i3 devices available in the initial line-up and all start with a usable 128GB of full SSD storage.  The model line-up is as follows:
UX21E-DH52  [See base space here] – $999
UX21 as above with Core i7 (2677M at 1.8Ghz) – $1199
UX31-DH52 [See base specs here] – $1099
UX31 13.3 as above with 256GB SSD – $1349
UX31 13.3 with Core i7 (1.8Ghz) and 256GB SSD – $1449
In Europe:
Entry level for the UX21-KX400V is 999 Euros (base model as above) with the Core i7 version for €1099 (Germany)
Entry level for the UX31E-RY009V is also 999 Euros (Core i5 with 1.7Ghz) which is interesting as the US customers have to pay a premium over the entry level UX21. Add 100 Euro for the Core i7 and another 100 Euro for the extra 128GB SSD. I guess Asus just wanted to keep the prices simple.
Europeans should start to see the devices filtering in from November
Remember these are all MRRP (recommended retail prices) and street prices are likely to drop from these levels.
The UX21 is marketed as a '6 hour' device and the UX31 an '8 hours device.' Our recommendation is to chop 30% off these figures to get to a real-world, in-use figure.
We haven't seen any evidence of Wi-Di or Smart Connect support on the ASUS UX Zenbooks
If you see any online pre-order pages go live in the next 24 hours, please let us know.
Additional info via