The guys at Laptopmag, who generally do a respectable job of reviews, have not been impressed with the Acer Aspire S3. Their review gives it 2.5 out of 5.

You can read their full review here.
I want to pick up on a few things though. Firstly, keyboards. We're going to see many people complain about key travel as Laptopmag have done. I've pondered over this myself and as I tested the Toshiba Z830 today I even mentioned it to Toshiba as a potential issue but after some extended typing tests I was actually starting to enjoy the short travel. It speeds up typing; If you can get used to the change. Laptopmag are reporting that keys had to be pressed harder though. That's not how it should work so watch out for this in other reviews.
The report on the Hybrid hard drive is very disappointing. "Because it relies on such a slow hard drive, the Aspire S3 took 1 minute and 5 seconds to boot into Windows 7 Home Premium."  Acer are the only manufacturer so far [Oct 2011] to have chosen the hybrid HDD. It looks like this might have been false economy. You've got storage, but surely it's better to have fast boot and application start given that there are quick ways to get data in and out of a device either via local connectivity or online storage. Note that the SSD part of the Hybrid HDD might optimise over time and get better. Watch for more reports and reviews.
Comparisons to the Apple MacBook Air are going to be all over the place. Laptopmag have used the benchmark a number of times without making it clear that the MBA, in similar screen size, is a lot more expensive. Please bear that in mind.
Gaming is something I want to concentrate on when I get the chance to do some deep testing. Laptopmag have the first result in though. "When playing World of Warcraft, the S3 averaged 26 frames per second with the display at its native resolution and effects set to Good." I have no reference point for that yet so I'll leave it to the gamers to comment below.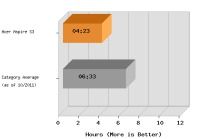 Battery life comparisons to 2KG/5lb devices are not worth seeing. The Acer Aspire got 4hrs and 23 minutes in a Wi-Fi On, screen-on, browsing test. I find that unsurprising given that an Ultrabook will generally need about 9-10w for that task. The S3 does weigh 1.35KG though so maybe it should have been a little better. Do remember that the Ultrabooks are high-dynamic range devices. If you treat them well and tune them down, they give you battery life. If you're lazy, they can run all over the place and drain the 36.4Wh battery as seen in the S3 in 3hrs. A gamer will kill the S3 in under 2hrs!
We'll see many more reviews over the following week and as time goes on, more details will be exposed. The Laptopmag review is tending towards 'quick n dirty SEO' as many early reviews do so keep an eye on the Acer S3 specifications page and we'll add more reviews as we see them.