Taking a bit longer than I originally expected after the ASUS UX31 availability last week are the first 2 reviews of the ASUS UX31 'Zenbook' Ultrabook.  Both reviews originate from Chinese sources.
[UX31 Specifications, Gallery and more information here]
Overall, the initial response seems to be very good. Much better than the first review of the Acer S3 that we saw last week although I am personally disappointed at the use of convertor adaptors to provide VGA and Ethernet. They add weight, take more power than built-in components and are likely to get lost or forgotten. With the case and adaptors added-in, the UX31 weighs a very non-ultrabook 1.8KG.
In both reviews we even get a teardown of the device showing the huge battery area compared to the motherboard. The battery is 50Wh which is a lot more than the 34Wh you get in the Acer S3. As expected, the battery life figures are higher.  Battery life ranges from 129 minutes (full-power test) to nearly 7 hours.
A quote from VR-Zone hints at a very fast SSD: "The SSD used is from ADATA with a SandForce controller (model: SF-2281), supporting SATA 6Gbp/s performance. The ASUS ZENBOOK UX31 also has the fastest read and write speeds among the four Ultrabooks. " With test results peaking at around 500MB/s, I'm impressed.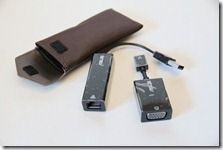 There's also confirmation that the Wifi module is an Atheros part which I am fairly certain won't support Wireless Display.
In a CrystalMark score we see some fantastic results for disk, memory and CPU and a total of 167117 which is very impressive. Remember that the UX31 uses the Core i5 2557M at 1.7Ghz.
There are still some questions left open after reading through the reviews (Like SHXC support, screen viewing angles for example) but overall it's hard to find many negative points. I suspect that Lenovo will have a UX31 on the bench next to the U300s as you read this!
Review links will be added to the database as we find them but here are the first two direct links.