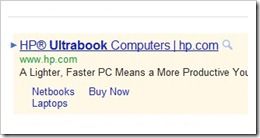 We've seen an HP Ultrabook ad and have some Digitmes rumors thrown in for good measure but I think this is the first time anyone with any authority has confirmed that HP will bring an Ultrabook to market.
It's Intel that have spilled the beans on what could be the definitive number of Ultrabooks launching in 2011. Intel Taiwan's country manager Jason Chen said that Ultrabooks would be launching from Asus, Acer, HP, Lenovo and Toshiba. Looks like the South Korean LG Xnote P220 isn't an Ultrabook in competing Taiwan !
The report  comes from Taipei Times and also contains information about the Acer S3 local pricing and an estimate of Ultrabook volumes buy contract manufacturers Wistron.