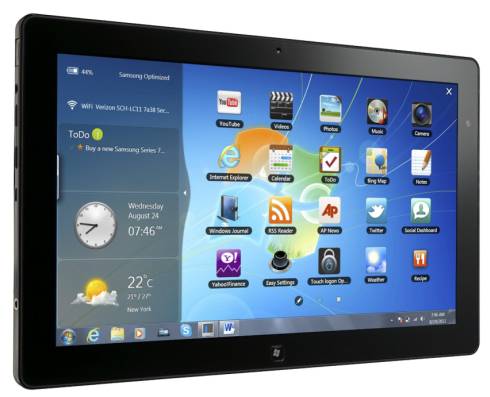 Prediction: 9 out of 10 commenters around the web will accuse the Samsung Series 7 Slate as being ridiculously over-priced. Personally I think its the best Tablet PC I've ever had my hands on and in my opinion it's well worth the money that is being asked. Liliputing have details.
In 2012 the Series 7 will mature with Windows 8 into one of the most multi-scenario high dynamic range computers there is. Clearly I'm not disguising the fact that I want one!
I probably don't need to explain to you all why it's so good but ill try and summarize anyway. First though I have to raise my hands and say that this isn't a UMPC, by a long shot, although it's lighter than many device we've covered here on Umpcportal.
5-20x the CPU processing power of an ARM based tablet. (depending on Turbo state)
Around 5x the CPU performance of a single-core netbook.
Dual touch/pen input layers
Hardware video co/dec (it's bloody fast at file conversion too!)
Dock, Keyboard included
Under 900gm
Most people would have no problem using this as a desktop PC. With Windows 8 I suspect that many will enjoy this as a tablet. Can you imagine how devices like this will mature in 2013. I estimate 700gm for even more processing power than this. We're getting there, and interestingly, Atom is nowhere to be seen.
I'll be testing the Series 7 later in the month and am really looking forward to the live review session. I hope you will join me.
http://liliputing.com/2011/10/samsung-series-7-slate-now-available-for-pre-order-for-1349.html