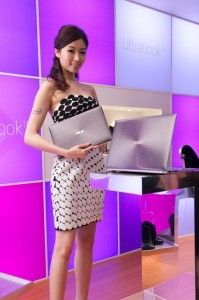 In this article I put a case forward for the Ultrabook. It follows a similar article in which I put forward an argument against the Ultrabook. You can't say we're not assessing all angles on Utrabooknews!
The Ultrabook project, a three-stage plan by Intel to change they way that laptops are designed and manufactured, is now producing its first products and already we're seeing combinations of weight, price and power that have never been seen in the industry before; Truly ground-breaking notebooks. Early reviews have been very good and despite the expensive changes in design and manufacturing, the price points are competitive.
I'll talk more about todays Ultrabook products further on in this article but first lets talk about why the Ultrabook project, over 3 years, is advantageous for everyone.
More important than the initial products is the massive change that is being asked of the laptop industry to move to ultra-efficient electronic designs [the battery companies are going to hate this part of the equation. Environmentalists will love it.], sealed unit and single board production by choosing and tightly integrating components and processes. As the change in the laptop continues the result will be advantages for all parts of the industry – a move towards solid state storage, smaller batteries, lower part counts and lower shipping weights. Windows 8 will combine to bring a scenario where the laptop covers a wider range of usage scenarios than ever before. Style included – Dont forget that very important style element for the mature markets.
Smartphones and tablets have simplified and added fun to the process of dealing with email. Apps have made the weather forecast a one-click process. Tablets have brought casual-gaming to a new level and left the netbook looking boring, old, heavy and slow. 60 seconds to boot, 10 seconds to fire-up the application and another 10 seconds to get the browser, email or twitter application up-to-date. The low-end casual laptop is dead for many in the advanced markets and its likely to die a quick death.
As mobile, always-on products and operating systems improve and as the developer community invests more time and money in creating quality apps, the need for a PC undeniably diminishes but the need for powerfull processing power and high-quality apps doesnt. The laptop needs to re-invent itself within the next 5 years to compete against maturing mobile operating systems and ARM based platforms and also the lower production cost of these low-power, single board, sealed systems.
Ultrabook, as a project, is the right thing for designers, manufacturers and customers, but do the first wave of devices compete against the existing mainstream devices that come in at cheaper levels. What customers should think about buying Ultrabooks today.
To understand what you really get in a 2011 Ultrabook you need to think about a perfect balance of power, weight, style and price for the mainstream laptop user. While a HP DM1 might look great value, once you add in the Ultrabook features, you're up to the cost of a low-end Ultrabook and if you need more processing power, you can't reach into Core i5 or Core i7 territory. Similarly when you look at lightweight Core i5 laptops, they may have a higher clocked mobile CPU but they are using computing platforms that can sap a 50Wh battery flat in a hot 2 hours. The weight and size cost is considerable too. You'll be looking at  1lb of extra weight in nearly all cases for very little real-world processing or battery life gain.
The Ultrabook slots in just above the tablet and replaces the netbook and desktop with a device that takes style, efficiency, access speed into the design and adds high-end features that have never before appeared in laptops at this price. Yes, I mentioned desktop replacement. For a significant percentage of desktop users, the Ultrabook will be a satisfactory, and way more stylish and portable choice.
Ultrabook features (2011)
Processing power rises to 10x the processing power found on a netbook (or high-end Android or iPad tablet) This isn't high-end processing power but its a comfortable level for many people and with the addition of fast SSD storage the feel of the device is faster and smoother than higher power devices that don't run on SSDs. The power of the SSD can not be understated so if you are comparing Ultrabook alternatives, factor in the cost of an SSD upgrade if needed.
Video decoding and encoding hardware is included. Granted you'll find this on any Intel Core platform in 2011 but encoding is not something found on netbooks and on nearly all tablets. It allows for extremely fast, low-power video conversion (for handheld devices for example) and speedier video editing for the average customer.
Real-time video enhancement processing for enhanced on-screen or external screen viewing.
Turbo-boost overclocking by using fine-grain thermal management.
Low-power 800Mhz mode lowers the dynamic range of the Ultrabook to enhance battery life but retains 'netbook plus' performance. This mode is perfect for the traveler and writer.
On-die 3D graphics solution offers gaming experience.
Built-in security token hardware – exclusive to Ultrabooks. [Check models, web sites for evidence of support first though – we remain unconvinced that all models have this in 2011.]
Fast SSD storage dramatically increases boot, resume and application start-up time while lowering power, increasing ruggedness and lowering noise levels.
Intel Insider capability for trusted streaming of high-value video content. [Also blocking screen buffer captures we understand!]
Regarding battery life, be careful. The Ultrabook is a high-dynamic range machine that can run at anything between 2 and 8 hours depending on usage scenarios. Make sure you compare battery life in like-for-like scenarios. FOr the weight class, the Ultrabook is likely to deliver the best battery life per pound/kilo.
Optional features to look for in your Ultrabook comparisons
USB 3.0
Sleep and Charge powered USB ports when the Ultrabook is off.
Wireless display for 1080p and digital audio
Backlit, splashproof keyboard
Smart-connect
Thin-bezel, high brightness  and wide-viewing angle screens
Panel self-refresh (saves power)
Expect to see all the ports you need too. HDMI, a couple of USB ports, memory card slot and even full size VGA and ethernet ports on some. Take the Toshiba Z830 for example. A 13″ screen with full-size ports and a weight of 2.2lb. The pre-order price in Europe is just €999 (a pre tax price of about $1000-$1100 in the USA) is class beating. (And it's the device that this author has his eye on.)
Don't forget that very important design too. Ultrabooks are thin and stylish. After spending time with one, even the thinner notebooks look clunky and with weights going down to a netbook-beating 2.2lb / 1KG they are extremely light to carry. Even a 3lb device is noticeably heavier.
If you're looking for an ultra-portable laptop now, start with the Ultrabooks because they get the balance right across a wide spectrum of requirements.
In mid-2012 you'll see more
Big increase in 3D power and capability through a redesigned on-die graphics unit on the Ivy Bridge platform

Thunderbolt in many new designs and USB 3.0 in most designs

Anti-theft features

More sensor support (GPS or example)

Lower power consumption (estimated 20%, about an hour more battery life)

Lower platform cost

Alternative

designs with touchscreens.

Windows 8 to further improve efficiency, improve user-interface dynamics and widen usage scenarios.
The 2012 Ultrabook is for those that can wait. Competition will be higher, prices lower and you'll get more performance and features for less money.
In 2013
Performance and efficiency improvements with the Haswell platform could lead to…
Fan-off designs
Always-on
The possibility of Ultraslate tablets.
A note on the Apple MacBook Air: The MacBook Air is a great example of an Ultrabook-like design and is a valid option in this space. It led the way, to the Ultrabook [you can be sure that Intel helped with the design on the MBA and learnt a lot from it.] For those that are happy with OS X (which is very well optimised for the platform) we would recommend the MBA.
Over the next 3 years, $300 million will be invested in improving components in the Ultrabook ecosystem. Millions of dollars in marketing assistance will flow from Intel too. At the end of that period one can assume that Ultrabook design traits will have leaked into lower-cost segments and across to other silicon manufacturers customers products. Intel will hope that benefits of the Ultrabook project will have brought them in a position where they can start to fight on a level playing field with the new high-power ARM based devices running Windows 8
Related – A few years ago I wrote about lock-in elements of ARM-based smartbooks. The Ultrabook project is addressing many of these issues.
With Ultrabooks consumers can be confident they get the best possible power-speed-weight-cost ratio on the market and the thin and stylish design appeals in a totally different way to other notebooks. Prices are starting at $900 today which follows the excellent pricing set by the Mac Book Air this year and represents a huge discount on similar devices of just 12 months previous. Street prices and special offers should hit $800 by Christmas and starting prices for Ivy Bridge devices in 2012 will drop from that point down to $700 [our estimate.]
The Ultrabook offers something for everyone from the device designer, the manufacturers, the retailer  and the end-user.  You can compare non-Ultrabook alternatives, but for this level of style and portability, there are very few real alternatives.