In a meeting with Toshiba Europe today we got an update, and more hands on with the Toshiba Z830 Ultrabook. It's light, well featured and will come in Portégé and Satellite versions meaning business, and consumer specifications. Toshiba haven't decided on final specification line-up yet and price targets weren't given but from what we learnt today, we can't see the Z830 coming at under $/€1000. First though, lets give you the video, taken after the meeting. It's one of the most complete overview's to date so worth watching.
Full specifications known to date are in the Toshiba Z830 information page.
The product marketing team we met today are responsible for west, mainland Europe. Germany, Holland, France, Belgium are included so some of this information may not apply to markets like, for instance, Japan, where there are different requirements but for UK and North America you can be fairly certain that what you read here will apply to your region. Certainly the Magnesium alloy chassis will be the same the world over and Toshiba took care to explain how the thin magnesium metal design has been strengthened with webbing, strengthened with supporting pillars in all the right places and that it has been put through quite a bit of testing. 100KG pressure on top, drop test from 30 inches and a number of ageing tests including temperature extremes a shake test and more. There's a pillow-safe fan input and output (a design that secures against overheating through the smothering effect that a pillow has on some designs) and 20 patents involved here. The results of this will go into every model in the Toshiba Z830 range.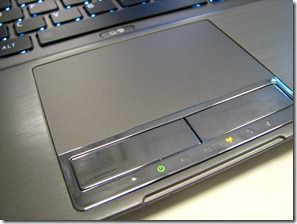 One of the features that is fairly obvious from first look is that the Z830 has a good range of full-size ports. There's no need for adaptors here because VGA, HDMI, USB2 (x2, one with sleep 'n' charge) USB3.0 (x1) Ethernet, SD and audio ports are provided. This isn't the only feature that could attract people.
A backlit keyboard that was great to type on, quick on/off switch for the mouse pad, dedicated button for the Toshiba 'Eco' battery saving mode, a matt display (not seen in this sample) and a UMTS option in some Portégé versions.
What a shame though that the screen resolution is a rather poor 117dpi. 1366×768 should have been 1600×900, surely. There's scope here for even more we feel. If there's one bit of feedback we'd give to Toshiba it's 'Please reconsider that screen resolution.' Hopefuly, having seen the UX31 launch yesterday, they're already working on it.
Ultrabook 'plus' features such as Smart Connect and Wi-Di are being included on some models. [see here for glossary of terms]
Toshiba seem proud about their speaker design too. OK Toshiba, the speakers are OK but you had better on the 200 Euro AC100 smartbook and it's nothing compared to the speakers on the Samsung NC210!
All [2011] 13" Windows Ultrabooks listed on a comparison page.
I've mentioned the keyboard above but also want to mention the mousepad. The one I tested wasn't the final multitouch version but it was sweet, mainly because of the mouse buttons that have a really nice feel to them. As I mentioned in the video though, I hope the plastic 'chrome' doesn't wear off. Integrated lamps are a really nice touch too.
As far as performance goes, it's difficult to tell at the moment. The sample device had a Toshiba SSD installed and it was fast to start and fast to open apps but then all Ultrabooks should feel this way. Only finer testing will reveal any issues. If Toshiba do a good job on the SSD controller and disk, as one would expect from an SSD controller and disk manufacturer, everything should be fine.
So apart from the screen resolution issue, there's only one other potential sticking point. The price. All I can say is that it's confirmed that the entry price will be below 1300 Euros. I sense that Toshiba may not hit the €1000 euro mark though unless they introduce an almost loss-leading ('low stock') Core i3 version in the Satellite range. But who want's that? Ultrabooks really start to get going with Core i5 and 1.6Ghz+ with Turbo Boost and with a minimum 64GB, this could compete at 1100 Euro based on the build quality, ports and weight. Yes, the UX31 has the higher resolution display and may indeed be the consumers choice but I don't see Toshiba wanting to go there; at least to start with. The Portégé brand is going to allow Toshiba to start at €1100. I hope I'm wrong but that's what makes sense to me today.
Availability is going to be in Q4 which really means they have to launch and make the device available in November. Toshiba have stated that they only want to make the final launch, price and specifications announcement shortly before availability.
One more thing – We haven't got the details on the battery size of expected life. At 1.1KG they may struggle to get 50Wh of battery in. Wait for battery life test figures (Toshiba are claiming 8 hrs) before buying.
Toshiba Z830 information page with specs and links to further information. Commenting also available here.
A new set of photos is now in the Toshiba Z830 photo gallery over at UMPCPortal.