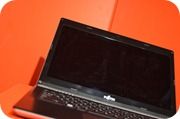 Fujitsu may have launched the SH771 high-end ultra-light but that doesn't mean they aren't going to produce an Ultrabook. How do we know? We have pics of Fujitsu Ultrabooks!
Sent to us from Mr Blurrycam himself and marked-up with equally fuzzy information, these pics are supposed to have been shown in a private event recently and were highlighted as Ultrabooks for the 2012 market.
There's two models being shown here. One is an almost ready 13"er, the other, just a plastic prototype of an 11" Ultrabook which leads us to believe that we're looking at a Sandy Bridge model and a slightly thinner Ivy Bridge device here.
You'll see a USB3 port on right of the the 'almost ready' Fujitsu Ultrabook along with two other ports and you can make out four port labels on the left hand side. I don't know about you but to me it looks a little chunky for an Ultrabook. The keyboard frame look very wide too.
As for the prototype, I'm reminded of the LG XNote P220.
That's all we have folks. At least it's a Fujitsu Ultrabook confirmed. I expect we'll see this at CES, if it doesn't leak again before Jan.