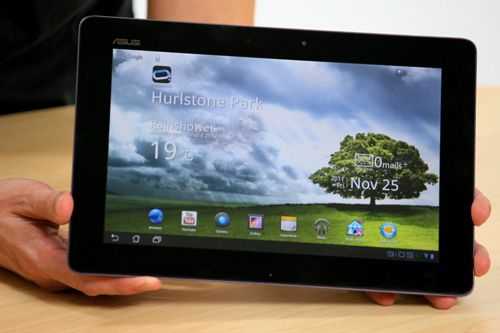 The Transformer Prime is the first tablet to be announced with the Nvidia Tegra 3 platform, and while the price and release date have yet to be officially announced, it is likely going to be in even higher demand than it's predecessor, the Eee Pad Transformer.
Our pal Ritchie has a detailed writeup of his hands-on experience with the Transformer Prime along with some great photos to whet your appetite of this thin and powerful device. If you're the visual type, he's also prepared a video summary of the Transformer Prime for your enjoyment:
httpv://www.youtube.com/watch?v=p0D-mXIzlKc
Ritchie says that the Super IPS+ display looks great, and this will be an upgrade over the original Transformer's regular IPS display, while retaining the durable Gorilla Glass. Asus added a display brightness boosting function to the Transformer Prime which is intended for better viewing during outside use.
Tegra 3's performance is also in full force; it appears as though it can handle 720p and 1080p video with no problems. That could make the Transformer Prime a great portable home-theater (thanks to the micro-HDMI port), with the only problem being the relatively weak Android codec support. I'm curious to know how well the Transformer Prime can handle software video decoding that comes along with some third-party applications.
The unit itself is slimmer and lighter than the iPad 2, and attached with the keyboard, the Transformer Prime is rated to run for 18 hours which is pretty awesome.
For more detail about the Transformer Prime, don't miss Ritchie's write-up.
Unless there are any unforseen issues leading up to it's launch, the Transformer Prime is certainly setting the new bar for Android tablets, and I would go as far to say that Apple better pay attention as well. The Transformer Prime has nearly everything one could want in a tablet today except for a little Ice Cream Sandwich action.