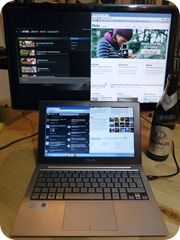 Our first 'retail' Ultrabook review video is now live. It's the Asus UX21. Thanks, ASUS Germany, for sending it over.
You can read a few very early first impressions on the previous article. Specifications, as always, in our database.
Our LIVE REVIEW is planned for Thursday 17th November at 2100 GMT+1 (9pm Berlin time- meet everyone here. Your local time here.) so if you have queries and want to see the results live, add it to your calendar. We'll have a live chat and video going for a few hours. The ASUS UX21 will get a good thrashing with benchmarks, videos, productivity, gaming and much more.
A more detailed first impressions article will go out within the next 48hrs. Check back here or subscribe on Twitter or Facebook.
And now to the video. Don't forget to support Ultrabooknews by 'liking' the YouTube video and please, if you have a positive or negative thought, add it to the comments. It helps us all.
Video below….