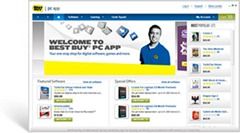 Underlining Intel's determination to get into the application store game is an announcement that Intel Capital have prepared a $100 million AppUp Fund that will invest in "software tools and services companies developing innovative applications and digital content for the mobile and PC ecosystem." That's mainly netbooks, consumer notebooks and, mentioned specifically, Ultrabooks.
The full press release is here and includes details of two initial investments. Urban Airship, a mobile marketing company, and 4tiitoo who develop an operating system for mobile devices. 4tiitoo also make a tablet, the WeTab.
"While the investments will focus across multiple technologies and devices, key areas include cross-platform technologies such as HTML5, as well as experiences designed specifically for Ultrabooks."
The announcement of the AppUp Fund is in addition to the $300 million Ultrabook Fund, aimed more at technology that can help the Ultrabook design and production ecosystem.
Appup is already heading for Ultrabooks and the recently launched Toshiba Z835 at Best Buy, has it pre-installed. Interestingly, I have just installed AppUp on the UX21 I'm testing here in preparation for a demo in our live review on Thursday. If you want to see a few Appup games running on the Ultrabook, join us.
So what would you like to see in an Ultrabook app store?