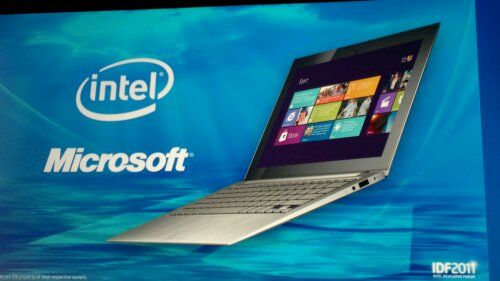 Back at IDF in Sept we were told that most of Intel's marketing spend next year will be on Ultrabooks. It seems hard to believe but what is for sure is that there will be a large sum of money involved. Companies producing Ultrabooks (that qualify) can look forward to marketing and advertising help along with a raft of generic Ultrabook advertising. Expect to see the first of this at CES where Intel is bound to be supporting all the Ivy Bridge partners and a big bunch of journalists.
In an interview to be published in the German Handelsblatt newspaper tomorrow, Tom Kilroy, VP of sales and marketing at Intel gives more information. Although the full article is not yet available, a press release (in German) gives selected details.
"Im kommenden Jahr werden die Ultrabooks im Zentrum unserer größten Marketingkampagne seit Jahren stehen"
"In the coming year the Ultrabooks will be at the center of our biggest marketing campaign for years."
It sounds promising but Tom goes on to say that this year the sales numbers won't be very big. No real surprise there considering only 3 of the 5 launched Ultrabook models are available with only 2 months of the year to go.
The campaign will focus on the new Core processors (Ivy Bridge) and with Windows 8, Intel expects Ultrabooks to start their 'run' with touchscreens ' à la iPad' but with a keyboard.
Yup, it sounds like marketing to me!
Don't get too excited about the touchscreens. Intel have previously said that they 'expect' manufacturers to 'experiment' with touch and convertible designs. It may not be until Haswell arrives in 2013 that the right building blocks are in place for that.
I'll update this article with a direct link and new information if anything extra appears in the article tomorrow.
[Translation is my own.]