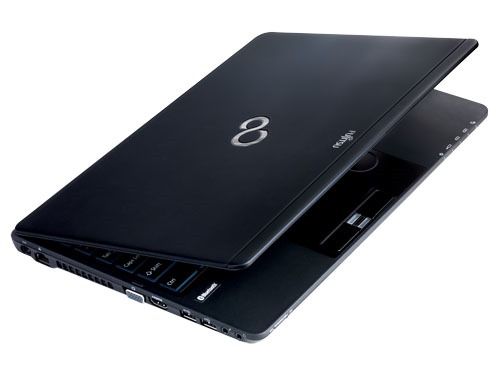 It's time to fire another warning shot across the bows of the over-eager marketing teams. Here's the truth about the battery life on the '18 hour' Fujitsu SH771.
But first, let us pay respect to the fact that there is a class of devices above Ultrabooks that can retain features like DVD, fully-clocked CPUs, large battery capacity options and still keep the weight down. The Fujitsu SH771 looks like it offers the best of both worlds. In some respects it does, but it starts at $1800.
Press release here. Battery life analysis below.
For that price you'll get a rotating hard drive and a 68Wh battery capacity with a weight of 1.33KG
I don't know how much the SSD will add but for business laptops, you're usually looking at $200 for 128GB. Choose the high-capacity battery option and you'll be over $2000. Go for the high-end options with the extra 27Wh battery pack and you're up at $2.2K.
I find it an impressive set-up. If I had the money I'd be looking very closely at it.
I'd also be 'normalising' those battery life figures because the 18hrs claim is just BS.
The problem is one I've mentioned before and I will highlight it as long as manufacturers continue to try to pull the wool over our eyes. JEITA is the problem and when I first wrote in detail about it in 2007, it was Fujitsu again that were pulling the tricks. At that point it was already a 6 year old test. Today, it's worth nothing. IF YOU SEE A JEITA BATTERY LIFE TEST, IGNORE IT; Unless you're able to translate those figures into real-world figures like I'm going to do below.
JEITA is a simple, no-Wi-Fi, idle, low-backlight battery life test with an element of local video playback, something that most devices now do in dedicated hardware. It represents a near-idle scenario which in these times of super-low idle battery usage, is nothing compared to the maximum battery drain these platforms are capable.
Fujitsu claim 9.3hrs of battery life on the JEITA 1.0 test with the basic battery. Here's the detail of their 18 claim laptop in the small-print.
Running up to approximately 13.7 hours runtime on a standard battery and up to 18 hours with a modular bay battery option
Actual battery life will vary based on screen brightness, sound volume settings, running applications, connected peripherals, power management settings, battery conditioning, and other customer preferences in the real life situation. Built-in bay device or hard drive usage may also have a significant impact on battery life. Results obtained from JEITA v1.0 measurement method, performed on systems with maximum battery life settings under laboratory testing environment. Note: Approx. 13.7 hours battery life is based on Intel® Core™ i5-2520M with high capacity, built-in 72Wh battery and weight saver. Approx. 18hrs battery life is based on Intel® Core™ i5-2520M with standard 72Wh battery and bay 27Wh battery. Results obtained from BAPCo MobileMark 2007(Productivity Workload) performed on systems with maximum battery life settings under laboratory testing environment. Note: Approx. 9hrs30mins battery life is based on Intel® Core™ i5-2520M with standard 67Wh battery. Approx. 14hrs battery life is based on Intel® Core™ i5-2520M with standard 67Wh battery and bay 27Wh battery.
So the standard battery is 67Wh. The high-capacity battery is just 5Wh bigger (72Wh) and there's a 27Wh battery that slots into the DVD bay making a maximum of 99Wh. Impressive, but 1.5KG in weight, not the 1.22KG that you might infer from the marketing blurb.
Let's match that up to real-world figures with the 35W TDP Intel Core i5-2520M
Wi-Fi-On browsing on this device should come in at about 10W-12W average drain. That's 5-6hrs of battery use in base configuration. Best case figure here would be 9W drain for about 7.4hrs of browsing. (SSD, close proximity Wi-Fi, low screen backlight)
CPU intensive work such as video rendering, image processing, unzipping will double the drain, pushing the base-config battery life down to 2.5-3hrs.
A worst-case scenario (gaming) pushing GPU and CPU sees great performance for the weight but the base configuration will be down to a hot 2hrs. Add the (expensive, I assume) battery options and you're still in the 3hr range. If you' take the Core i7 version, with HDD, the figures will be worse.
[Note: Figures based on my experiences testing PC battery drain over the last 5 years with recent experience on the Sandy Bridge platforms]
That sounds somewhat different to 18hrs doesn't it! Average it out and you'll be using about 12W-15W of drain equating to 5hrs 30mins to 6hrs usage on the standard battery with SSD in 1.22KG. That's not far off what you'll be getting from the Toshiba Z830 in my estimate. (see below for some figures.)
The Fujitsu SH771 is going to bring some impressive power and impressive battery life to the market but please Fujitsu, drop the misleading JEITA tests. They suck too little.
Ultrabooks and similar devices have a huge dynamic range of operating modes and the range will get wider as idle figures tend down. Beware of this when looking at battery life figures.
Note: There's some confusion in the notes as to whether Fujitsu have used Bapco or Jeita for the tests. If you look carefully there are two sets of results. The first two are JEITA results showing an average drain of  5.25-5.5W which is what I expect from a well-designed mobile Windows laptop. The second two results are the Bapco results showing a 6.7-7.0W average drain.  Bapco is generally a 'radios off' result and doesn't tax the system too much. Internet browsing is considerably harder on CPU, GPU and Wi-Fi.
Bapco results have not been officially published by Fujitsu yet. [3rd Nov 2011 – Here's  the live list of results.]
Better than an Ultrabook? Take a look at the BAPCO results for the Z830 on the list and you'll see an even more impressive score for BAPCO!
Again, the SH771 will be a fantastic option in the ultralight space but be careful of the battery life claims.