The 11.6" Samsung 900X1B, the 1KG sibling to the 13" 900X3A that we tested a while back, arrived today and I've had a solid afternoon of testing, and enjoying, this pre-Ultrabook. I won't call it an Ultrabook alternative because  just like the Apple MacBook Air it pre-dates the Ultrabook launch but uses the same design principles…and it's just as good. With an 11.6" screen it obviously goes up against the Asus UX21 and Apple MacBook Air. Here are some first impressions, relatively detailed, that might help you raise or lower the 900X1B on your list.
Announcement: I'll be sitting down in the studio to do some detailed review work on the Samsung 900X1B on Saturday 3rd Dec. You can tune in, ask questions and steer the testing on Saturday 3rd Dec at 2100 MEZ/CET (Your timezone details here.) I'll be live for about 2 hours so please, drop in and join-in on Ultrabooknews.com/live .  Follow @ultrabooknews on Twitter for reminders.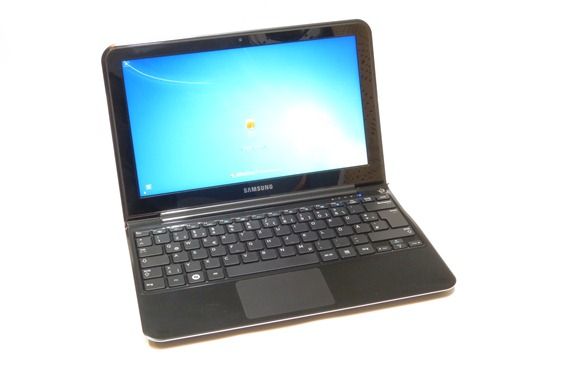 Click on these links for more information on the Samsung 900X1B
Samsung 900X1B Gallery (New today)
Samsung 900X1B Specifications and information, links, comments.
Sneak peak – Samsung 900X1A testing video from earlier today.
The 900X1B is retailing in a number of countries right in the Ultrabook price hot-spot of $/€900-1100 with Core i3 version street prices in Europe going below the Acer UX21 and with a Core i5 version being available, this isn't one to dismiss just because it was launched before Ultrabooks arrived. In fact, there are elements of the 900X1B that clearly stand out. So lets talk about those first.
First impressions of the Samsung 900X1B
It's well-rounded 11.6", 1KG device and clearly something that mobile types should take a close look at.
The keyboard is good, and not only because it has a backlight. It's a quality item that you'll probably launch into at near full-speed without any issues at all. The Synaptics touchpad adds to the quality experience too. Personally I'm finding it way, way better than the keyboard / touchpad on the Asus UX21.
The Solid State Disk (SSD) speed is good. It's, technically, not as good as the SSD in the 128GB version of the ASUS UX21, but it's a 20-second-boot device, just as the UX21 is. The SSD ranges down from 250 MB/s read speed against the Asus which peaks at 490MB/s but write speeds are faster in many cases on the Samsung 900X1B. The user isn't going to notice a huge amount of difference between them in terms of disk speed.
I love the design. It smacks of quality and style where the UX21 tends to show-off a little. It's more of a fingerprint magnet but it's nothing excessive. The brushed aircraft-quality metal on the back of the screen looks and feels great.
Talking about 'feel', the 900X1B feels a lot lighter than the UX21. There's just 40gm between the two devices though. I can't explain that but I'm guessing it's got something to do with materials and weight distribution.
The screen appears to be very bright with a great contrast; Better contrast than the ASUS UX21. The matt finish is the icing on the cake if you're a mobile type.
There's a MicroSD port (as-yet unconfirmed if SDXC is supported) which you could use for data transfer from other devices but you're more likely to be loading it up with videos and music and leaving it in place because…
The storage space on the 64GB drive is limited. Thank goodness there's no recovery partition (recovery disks are provided) because after Windows 7 is installed, you're probably left with about 50GB. The installation I have here is already down to 28GB after I installed a suite of testing apps. This could be a showstopper for many.
Performance on the Core i3 1.3Ghz platform is noticeably slower than a Core i7 Sandy Bridge ULV platform (as tested on the UX21) but certainly not bad. Web browsing is brisk. Unzip operations don't appear to lag. The whole Windows 7 experience is fluid but when it comes to pushing the limits, you see the differences. Where some recent games were playable in low-quality settings on the Core i7 UX21, it looks like you'll be struggling to get any recent games working on the 900X1B.
I tested 1080p video editing using Cyberlink Power Director 10. I had no problems with a simple edit, title and crossfade on a few 60-second 1080p clips and rendering to a 720p format was acceptable for a 1KG PC at about 2x real time. Converting the file to 720p first using the Intel Quick Sync Video-enabled Cyberlink Media Espresso allowed much faster 720 editing and rendering at 0.5x real time. For YouTube 720p quality the experience and results should be fine for most people but will limit those involved with large-file, complex and high-quality video editing.
Other notes:
No Intel Wireless Display support. The Broadcom Wifi supports b/g/n and 40Mhz channels.
Speakers – Good, loud, up there with the UX21.
No VGA output. You'll need a USB or HDMI adaptor if you need VGA output.
Micro HDMI port is a tight fit for fat cables
Ethernet confirmed as Gigabit capable. Adaptor is awkward as it has no connector lock.
Sleep 'n' Charge is provided on one of the USB ports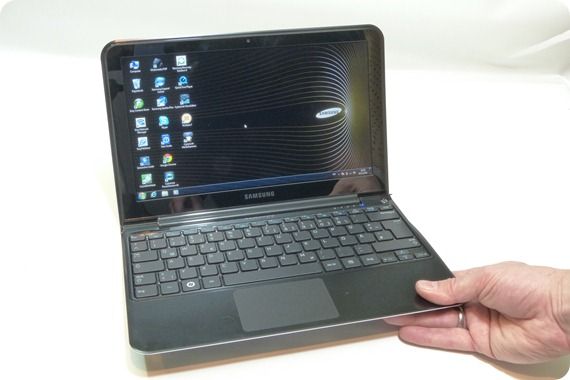 Battery Life
Battery life is difficult to test right now as the review sample I have here seems to be a little review-weary. Obviously due to the lack of restore partition, no full restore has been done. Unfortunately I can't get my external DVD drive working with the restore disk (my problem – I've seen it before) so a full restore may not be possible. In theory, the 40Wh battery, slightly bigger than the pack in the UX21, should return 4-5hrs web-working. I'm seeing [Perfmon battery drain monitoring over 1000s] 3.5hrs in that scenario at the moment. I'll report back on the battery life when I feel more confident about the setup.
That's a first-impressions round-up for you on the 900X1B. If you're interested, get your calendar out. I'll be sitting down in the studio with the Samsung 900X1B for 2 hours on Saturday and you can tune in, ask questions and steer the testing. Details: Saturday 3rd Dec at 2100 MEZ/CET (Your timezone details here.) with video and chat (always) available here on the live page.
As always, I'm monitoring and replying to your comments below.