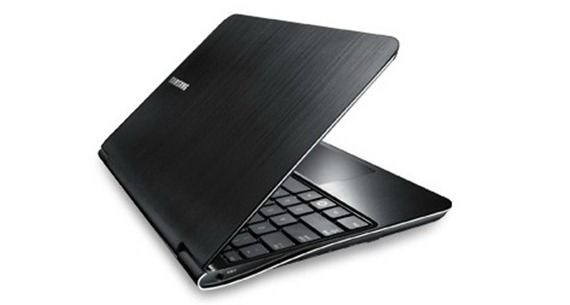 Available with Core i3 (1.3Ghz non-Turbo) and Core i5 (1.6Ghz, Turbo-enabled) the Samsung 900X1B (Series 9 range) is a stylish alternative to the ASUS UX21. It's been around for a few months and in theory, it's not an Intel Ultrabook but apart from slightly slower quick-boot and a missing TPM module (we are told) it's an Ultrabook! Later this week we'll be testing it and comparing it to our ASUS UX21 experiences.
We've already fully reviewed the 13" version, the Samsung 900X3A, but we wanted to visit the 11" version too, especially as the price seems to be dropping now. At least in Europe, the price for the 4GB model is now €100 euro lower than two months ago €889 from Amazon.de – matching the 11.6" Mac Book Air. In the USA, the 4GB version is available for $950 although most retailers have it up for $1150 or more. That also matches the 4GB MBA though.
But it's the UX21E that it should go up against. Here are the main specs and highlights.

Samsung 900X1B
Intel Core i3 2357M 1.3ghz
Intel HD Graphics 3000
4.0GB
64GB
1060gm
1366×768
11.7" x 7.8" x 0.7"
40 Wh
BT3.0 + HS
Backlit keyboard
1.3Mp Cam
Micro SD card slot
Micro HDMI
1xUSB3.0
Proprietary Ethernet port with GB Lan
Headset port
Matt screen
€889 (Amazon.de)

ASUS UX21
Intel Core i5 2467M 1.6ghz
Intel HD Graphics 3000
4.0GB
128GB
1102gm
1366×768
11.7" x 7.7" x 0.7"
35 Wh
BT4.0
0.3MP Cam
No backlit keyboard
No card slot
Micro HDMI
Mini VGA
1xUSB3.0
No Ethernet port (USB adaptor 100MB LAN)
Headset port
Glossy Screen
€999 (Amazon.de)
The big question is processing power. Hidden from the Samsung 900X1B specs is the lack of Turbo Boost on the Core i3 version so along with the 300Mhz reduction in nominal clockspeed, the platform is going to underperform the UX21 by quite a margin – although potentially return a better battery life, especially with the 14% bigger battery but features like backlit keyboard, GB LAN and matt screen make this a unique 1KG device. It's available in Core i5 version too so if you want that power, it's probably worth the estimated $/€ 100-150 more.
Our testing starts later in the week so drop back here for first impressions, unboxing videos and notification of the live review and Q&A session.