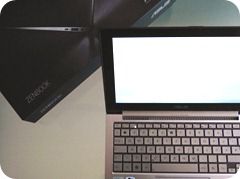 I'm pleased to announce that we have our first Ultrabook here for testing. Thanks to Asus for sending over the ASUS UX21E, the 11.6", 1160gm (2lb 9oz) Ultrabook in Core i7, 128GB build. (Model details – ASUS Zenbook UX21E-KX008V)
It looks just a awesome as the first time I saw it at IFA in September, boots in an impressively quick time, turns in a 300ms Sunspider score, has good speakers, a very bright (but glossy) screen , is totally silent as I type this and it looks like it will allow you to web-work for about 4.5 hours.
I'm acutely aware though, that others have reported keyboard issues and have to say, right of the bat, that I haven't hit the ground running with the keyboard. I'm dropping letters at a higher rate than is normal for me and having to look and think about typing more than I would expect. My reference point here is the Lenovo S205 which costs a quarter of what the UX21 costs. I'll be looking to see how it improve after the first hour of use. As for the touchpad, the latest drivers are installed and I've not experienced any issues yet.
A quick note about weight. The 'travel' weight here isn't 1160gm, it's 1364gm because you'll probably want to use the sleeve to protect the aluminium and the two  (Ethernet, VGA) adaptors. Add the power adaptor (because you haven't got all-day battery life with the UX21) and you're at 1490 grams.
Update: The first hands-on video is now live.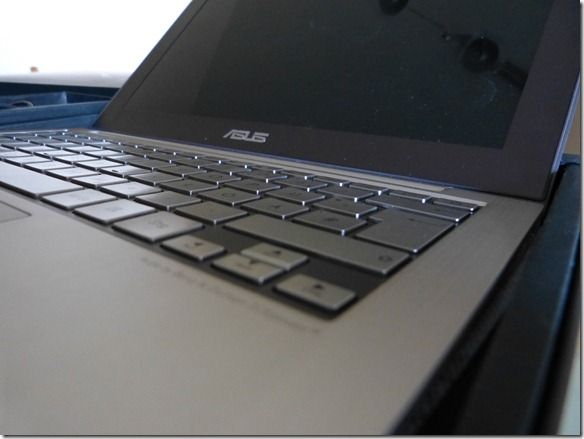 Live Video Review and Q&A
I'll be posting a video and some first impressions later today but I also want to invite you all to see everything for yourself. I'll be hosting a live video review with chat on Thursday evening at 9PM, Berlin time. (GMT+1) You can watch me test the UX21 for a couple of hours and join the chat to ask questions of me and other experts in the chatroom. Most of the session will be recorded. Don't expect a BBC quality studio or presentation but you'll get to see everything in a unique way. All warts will be exposed at http://ultrabooknews.com/live
So, between now and then I need to get to work. Gaming is something I'll cover in the studio but ill need to set that up beforehand. What games would you suggest I test?
If you can't wait until Thursday, feel free to ask questions below. I'll try and include answers either in the comments or in the first impressions post later today.