I've been watching GBM like a hawk today because I knew they were getting in a Toshiba Z830 for testing. At last we've got a final, retail version in the hands of someone that knows what they're doing. Josh Smith is the man and his First Impressions are here.
The model being reviewed is the Toshiba Portege z830-P330 with  1.4GHz Intel Core i3 (2nd gen), 4GB RAM and a 128GB SSD.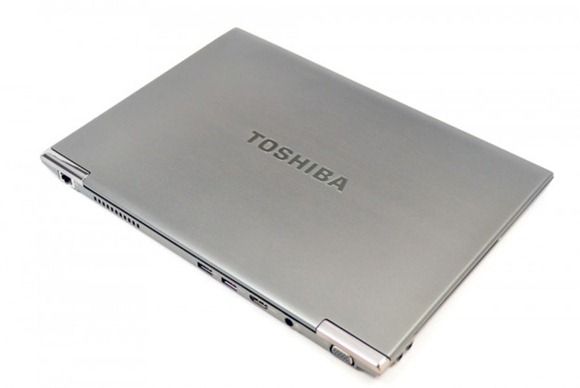 The SSD is confirmed as the Toshiba THNSNB128GMCJ and it's bad news.
As I thought yesterday when I saw the BAPCO tests, it's the 'standard performance' SSD from Toshiba with a very non-ultrabook-like 50MB/s max write speed. Yes that's 1/10th of the write speed of the SSD on the ASUS UX21 and it's a potential showstopper. Small block write speeds are nothing exciting either at 4MB/s. Why oh why did Toshiba put a low-performance SSD on what is supposed to be a high-performance device, under their premium 'showcase of technology' Portégé brand? Head on over for a CrystalDiskMark test to see the proof.
I feel like I should stop here and cancel my Z830 order. I was planning on using it for video editing and I don't want any hold-ups on moving around large file chunks. A fast SSD is critical to remove as many bottlenecks as possible. Maybe the UX31 is a better choice.
[Update: Based on this SSD information I have cancelled my Z830 order. If it launches in Europe with a faster SSD I may re-order. The UX31 just rose to the top of my list although i'm waiting for confirmation on touchpad fixes before ordering.]
Interestingly, the device being tested has a glossy screen. I was assured that the final models (OK, it was an EU rep. that told me) would have a matt screen.  On checking my order I see that the one I have ordered also has a glossy display. (I've ordered the Satellite Z830 10j  in Germany.)
OK, I don't want to get too negative here. Josh has some good things to say and this is just his first impression. Let's keep a close eye on GottaBeMobile over the next week.