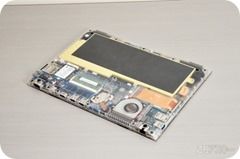 Designing an Ultrabook isn't easy. Tight measurements, strength and heat issues make the designers job tougher than ever but despite that Toshiba have managed to build a 13" laptop with a weight of only 1.1KG, the lightest of all the Ultrabooks.
We talked about some of the design features following a recent meeting with Toshiba but the extra information given in a review with some of the design team reveals even more and gives us the first images of the internals of the Z830. Don't miss the memory expansion slot!
Evolving from the Dynabook SS series, the Z830 (or Dynabook R631 as it is called locally in Japan) uses a similar low-profile magnesium alloy chassis where a honeycomb structure is added for rigidity.
The team talks about the difficulty of balancing the cost of low-profile components with the height restrictions, a hinge that is 4mm smaller in diameter than previous hinges and comments on the target market where they expect initial demand to come from IT literate users followed by a second 'big demand' from single PC families. Remember that space is at a huge premium in Japanese cities where 20 square meters is a common size in Tokyo.
Memory Upgrade Slot
Moving on to the internals then, you can see the honeycomb structure across the trackpad area in the image below. I see two half PCI-express mini modules there too.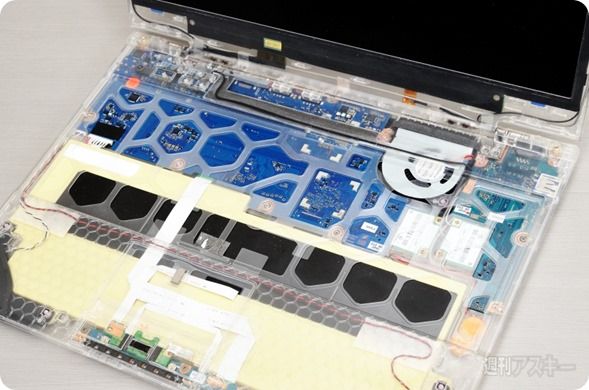 The underside reveals something that could please people – a memory slot. As I understand it, there is 2Gb soldered and the additional memory comes via the slot. There's an additional PCI Express mini slot too. Toshiba have indicated that the device will have HSDPA capability so maybe that's what it is here (although I see no antenna cables.)
Obviously the storage is directly soldered to the motherboard. Or could it be hiding as a module underneath the copper-coloured ribbon cable above the fan? Fingers crossed!
Update: That's the mSATA module that I've just confirmed as a THNSNB128GMCJ on the 128GB models. (See upcoming post for details) meaning that the SSD IS UPGRADEABLE.
More details on the SSD and battery life here.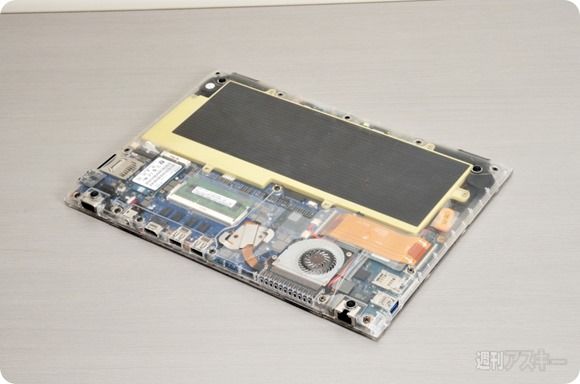 Source: Ascii.jp (In Japanese)