While I was researching for the last article, a warning about battery life figures, I came across some very useful information on the Toshiba Z830. They've officially submitted BAPCO MobileMark 2007 scores to BAPCO, for Core i3 and Core i7 versions of the Ultrabook, along with some other useful information.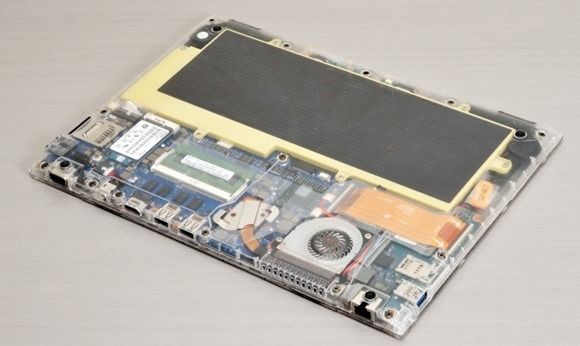 First, lets take a look at the SSD they're using. It's a critical part of an Ultrabook. Toshiba have obviously dropped their own part in and it's a TOSHIBA THNSNB128GMCJ , 128GB, SSD, SATA on the Core i7 model tested and a TOSHIBA THNSNB064GMCJ , 64GB, SSD, SATA on the Core i3 model tested.
The bad news is that it's not a high performance model. If this is the SSD they are using on the final product, [now confirmed for at least one model in the US] it willvastly  underperform the SSDs seen on the ASUS UX range. The good news is that the mSATA drive has been spotted on the Z830 breakdown pics and looks like it's accessible for a swap-out. I'm a little worried at this stage although while fast sequential write speeds are good, it's the small block random writes that are more important. Let's keep our fingers crossed.
The Core i7 model tested for BAPCO is the Intel® Core™ i7-2677M Processor, a 1.8Ghz nominal clockrate CPU. The Core i3 version tested was the Intel® Core™ i3-2367M Processor at 1.4Ghz which matches with UK specifications.
Now on to some great news. Battery life looks exceptional in the BAPCO test with a result that's beating many other devices on 'getting things done' efficiency.
The Core i3 model with its 45.79Wh battery scores 520 minutes in the Productivity 2007 benchmark – 8.6hrs. That's an amazing average (almost unbelievable actually – screen and Wifi must have been off I guess) of about 5.5W. The Core i7 device scores 497 minutes too. No wonder Toshiba are calling it an 8hr device! The scenario is rather unreal but it's a great result.
Bear in mind that real-world figures will be different. Based on these figures you'll probably see Wi-Fi-on drain of about 8W when surfing the net – over 5hrs of usage. Full-on gaming use will give you just over 2hrs! Don't forget, the Z830 weighs 1.1KG /2.3lb though. Per Kilo, the Z830 looks like a top-end challenger.
Image via Ascii.jp