Along with three other models, the Core i7 variant of the Z830 has surfaced for order in the U.S,  with a fingerprint reader but no 256GB SSD option yet.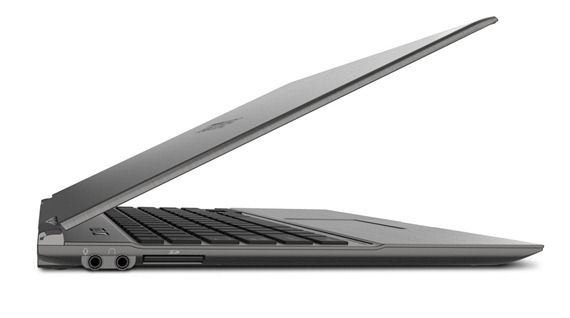 Following previous announcements in Europe that appear to have held back the Core i7 version of the Toshiba Z830 [seen in testing results] from the shelves, it's good to know it's actually available in the U.S.with a max 6GB RAM. It's dissapointing not to see a 256GB SSD storage option as that could have been a way round the relatively slow 128GB drive. Toshiba doesn't, as far as we know, have a 256GB in their 'value' SSD range so it could have come from a faster family of SSDs. We'll keep an eye out for that.
The Core i7 version comes in at $1429 as a pre-configured Toshiba direct purchase that includes 6GB of RAM and a fingerprint reader. There's no 3G option in the range although that is expected in Europe.
In Europe, you should see the first deliveries of the Core i5 version already in some shops at €999. Saturn, in Germany, already have it on stock and it's expected in many other places within the week.
We're expecting to get a review device either this week or next and, in related news, we should also be getting a Lenovo U300s for testing so keep checking back at Ultrabooknews.com
A promotional Z830 video from Toshiba is shown below. There are more videos and links in the Z830 specifications page.
Source: Toshiba
Thanks J01ce_