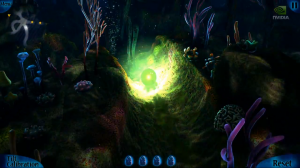 Tegra 3 is the world's first quad-core mobile platform, Nvidia assures us, and along with those 4 CPU cores come the Tegra 3 GPU which has 12 additional cores of its own. Nvidia is happy to show off the graphical capabilities of the Tegra 3 GPU, which they claim to be up to 3x faster than the Tegra 2 GPU. A few months back (when Tegra 3 was still being called Kal-El) Nvidia demoed a game called Glowball on pre-production hardware. Now, Nvidia is showing off a new level of the game, running on a production version of the Transformer Prime:
httpv://www.youtube.com/watch?v=C30ShWQm5pI
If you were already anticipating the Transformer Prime, I can only imagine you are now that much more excited; you'd be hard pressed to call that demo anything but impressive. I'll be curious to see some benchmarks, but I'd say Tegra 3's graphical capabilities are right up there with Apple's A5 CPU/GPU found in the iPhone 4S and iPad 2.
I think it's great to see that competition has created extremely high performance mobile computing platforms, but when it comes to gaming on tablets, casual play is still where the segment thrives. As soon as you push touchscreen gaming beyond casual, you absolutely need a controller to achieve a reasonable experience. Even though we should be able to connect Bluetooth peripherals (or even USB), it seems that there is not yet a defacto controller to suit the needs of beyond-casual gaming on mobile devices.
What say you? Do you find beyond-casual gaming on tablets impractical with only a touchscreen to control them?