I'm loving it! The Samsung 900X1B is an 11.6 inch notebook running an Intel Core processor with a battery life of 5-6hrs in web-working scenarios. Sounds big and heavy right? It's not. The price matches the productivity potential and it's working well as a partner to  my 7 inch Galaxy Tab Android Tablet.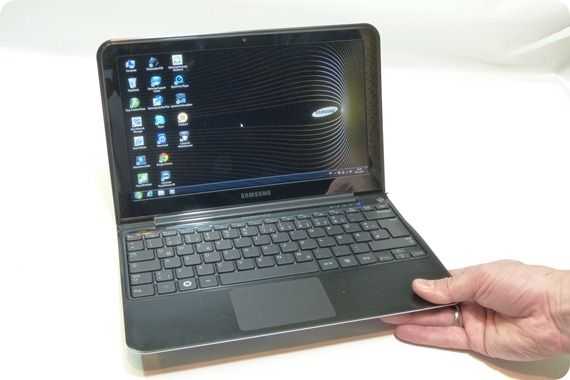 The Samsung 900X1B is part of the Series 9 range that includes a 13 inch version and it's designed around the 'Ultrabook' principle of efficient, light and stylish. It's been available for a few months now but in my opinion it's one of the best 11.6 inch notebooks out there. It weighs 1.06KG, 2.33Lbs and has a dynamic range that excites me. From 2.8W screen-off idle to 31W video processing. This stylish bit of kit can handle a huge range of tasks.
Yes it's a desktop device (although I've done some one-handed action with it in the last 48hrs) and it's not in the same category as an Ultra-Mobile, handheld PC device but given the lack of solutions in that area and the improvement in 7 inch tablet devices recently, this fits in as a perfect portable PC companion.
I want one. Although having said that I think the Core i3 version I have here is unnecessarily constrained. Core i5 at 1.6Ghz with Intel Turbo Boost action would extend the dynamic range even further without major battery life penalties but, here in Europe, the 900X1B with Core i3 and 4GB RAM, 64GB storage is dropping in price quickly. It's €880 right now. Very attractive and a lot of PC and quality engineering for the price. Matt screen, back-lit and high-quality keyboard, fast SSD, Gigabit Ethernet (via wobbly adaptor) and more.
OK let me stop now. If you're interested, check out my first impressions, battery life test at Ultrabooknews.com and then join me on Sat 3rd Dec 2011 at 2100 CET (Your timezone details here.) for a live Q&A and review [I'll be live here]. Those of you that were interested in high-end netbooks are going to love this. If the price is too high for you, just wait. This is the sort of 1KG laptop that will be $500 in a few years. Mark my words! Devices like this will totally displace the high-end netbook market.