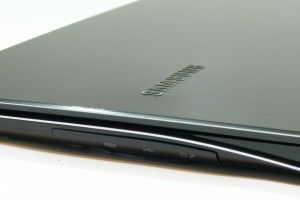 Giving battery life figures for any modern notebook will always be a difficult task due to the huge dynamic range of the mobile platforms used in notebooks today. Take the Samsung 900X1B I'm testing at the moment. It's not an Ultrabook but it's built on the same platform to the same dimensions and it will run at anything between 2.8W drain and over 10X that figure. In this article I'll give you some results from some fairly detailed testing I completed today. In summary, the Samsung 900X1B has excellent battery life for the size, weight and battery capacity. It's efficient.
The Samsung 900X1B runs on a Intel Core i3 2357M platform. It has a nominal 1.3Ghz clock speed but can speed-step down to 800Mhz. There's an Intel HD3000 graphics unit, a video encode/decode unit and, of course, lots of busses, components and connectivity. There's also a 11.6″ 1366×768 screen with a relatively powerful back-light. The battery capacity is 42Wh  [I recently corrected our database which showed in incorrect 40Wh.]
The tests I did today were aimed at finding how low the platform can idle and what sort of drain you can expect some of the components to add, all the way up to maximum power usage.
Full specifications, news links, images and videos for the Samsung 900X1B available here.
Idle – 2.8W / 15 hours
By turning of the Wifi, BT, turning on battery-saving mode, turning off speakers and keyboard back-light and letting the Samsung 900X1B settle down and turn the back-light off, I got my first reading which represents background drain.  The 900X1b will idle down to 2.8W of drain which is fantastic for a notebook. 2.8W is, let's be honest, many times more than an ARM-based platform can idle down too. (sub 100mW is common) but for a PC platform, it's really good. It's a shame one can't use a PC in this mode of course so in my tests I gradually added functionality.
Local MP3 playback – 4W / 10.5 hours
First, I fired up Windows Media Player and looped an MP3 and waited for the screen to blank. The 2 minute average drain as measure by Perfmon (included in Windows) was 4W. The CPU was barely working but the system was out of sleep and active.
Streaming MP3 playback – 4.6W / 9 hours
I then enabled the WiFi and streamed Groove Salad. After waiting for the screen to blank again, the 2-minute average drain was 4.6W. The Wifi, probably in a low-power state due to the small load and close proximity of my router, took 0.6W of power.
Screen-On MP3 streaming – 6W / 7 hours
Turning the screen on added 1.4W in its lowest setting which is usable in a low-daylight room. Bumping the screen brightness up to 40% didn't add much, probably 0.2W but it was difficult to measure any real change. You can also turn on the key backlighting to 50% for a more comfortable low-light experience without adding any significant drain.
Web Working – 6W / 7 hours
I turned off the audio stream, fired-up Chrome and went to work with three tabs. Tweetdeck and Gmail (including Google Talk active) and Google Plus should be reffered to as applications as they are actively using resources all the time. Over a 20 minute period with 40% screen brightness and in Samsungs Low-Power mode I was able to work smoothly and in an average of 6.07W for a projected total runtime of about 6.5 hours.
That's a impressive figure for a working, internet-connected laptop.
Webs and Apps – 6.6W  / 6.3 hours
To emulate a more typical working environment I fired up Windows Live Writer started writing this article. 10 minutes later I see an average drain of 6.6W. Those 10 minutes included simple edits on the image above. Finally, to simulate another scenario, I opened Windows Media Player and streamed music from my server.  TIme to do some image editing and see how the drain looks…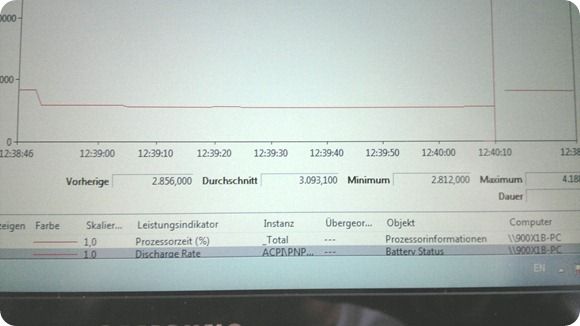 There's the lowest level captured just after I turned the screen on after a few minutes of screen-off idle. 2.812W drain.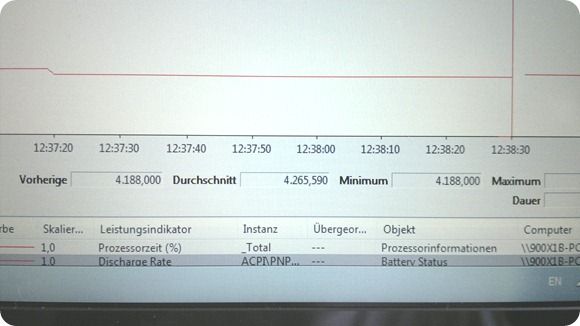 Turning the screen on brings the idle drain up to 4.2W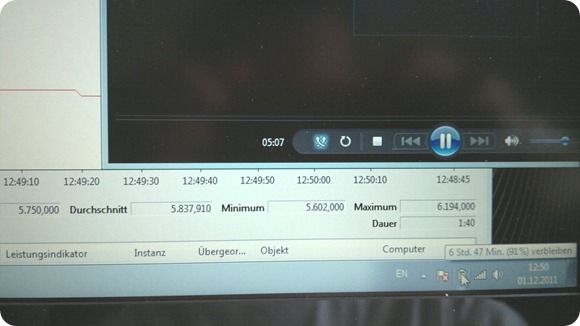 Here's the average drain after 5 minutes of listening to streamed music. Screen on, Wifi on.
Full specifications, news links, images and videos for the Samsung 900X1B available here.
Web, Apps, Music, Image editing – 8.5W / 5 hours
I've just imported, rotated, brightened and boardered the 2MB images above and added the titles. The music is still streaming, I'm still writing and the average drain over the last 10 minutes is 8.5W for a total battery life, in this mode, of 4.7 hours. The mix of apps, connectivity and occasional CPU-intensive work is typical of the average office user.
Balanced mode adds 1W – 9.5W / 4.45 hours
To let the Samsung 900X1B run more freely I set it to Samsung balanced mode. My suspicion was that it wouldn't change the figures much as although the CPU is free to run up from 800Mhz to it's peak of 1.3Ghz, it won't need to as most the activities were relatively simple and even if the CPU revs up, it gets jobs done quicker so the average drain would be the same (or less.)  I watched the grap  averages going up a little – an average of 9W (updated to 9.6W 10 minutes later.) Still, not bad and overall, very very impressive for such a powerful system.
Noise heat negligible in 'office working' mode.
I turned the music of and could  just about hear the fan. It's not loud and the system didn't get warm at all across the keyboard. There's a warmth on the bottom but nothing that would be uncomfortable on a lap.
Converting a video – 13W or 19W / 3.2 – 2.2 hours
One of the features that I like about the Ultrabook platform is the Intel Quick Sync Video system. It's basically a hardware video encoder and decoder and if software is written to use it (using the Intel Media SDK) it can get some great results. I used Cyberlink MediaEspresso for this test where I took a 55 second 1080p file of about 30Mbps and down-converted it to a 720p, 3Mbps video – the sort of thing you might do in order to transfer videos to portable players or upload to YouTube. The result was impressive. In battery saving mode the process to 45 seconds and peaked at 13W drain.  After switching to Samsungs performance mode, the result was completed in 29 seconds with a 19W peak. That's a 2X real-time speed ratio. Obviously anything less than 1080p will be even quicker.
Pushing it too the limits. – 31.75 W / 80 minutes
With WiFi on and far-away from the hotspot, Bluetooth active, screen and key backlight on full, a USB hard drive connected and performance mode activated, the 900X1B drained about 11W. And that's without doing anything at all! Adding Google Chrome's Monster Dash game, Battery Eater Pro, some music and, for good measure, a video conversion, I hit a peak of 31.75W As you can see from the graph on the right, the average was somewhat less – 26.4 watts but it proves that the 900X13 can work from 3 to 30W drain.
And finally, to sleep – 4 days
In a 5 hours sleep test I saw the battery drain just 4% indicating somewhere between 100 and 125 hours of standby. 4-5 days.
Summary
Background system drain 2.8W (Always there when system on)
Wifi at low-power: Adds 0.5W
Screen at 30%: Adds 1.4W
Low-power browser working (800Mhz max CPU) 6.2W (Total)
CPU accounts for 1.5W of drain. (24%) of total system drain in low-power web-working mode
Standby drain 0.4w (rough approx.)
The 900X1B is a very efficient notebook product and provides acceptable battery life for the weight. It's worth mentioning that an external power-pack of 50Wh with a weight of about 300gm, the same weight as the charger and cables, could double the battery life figures. 1.4KG for 10 hours of web, apps and music is an interesting thought.
Notes
These tests were done with a relatively fresh system build and by a knowledgeable user. Remember that a loaded system with many background process can easily push up the power drain. We recommend use of the default Samsung power profiles. In addition to the effects of background applications, careful attention should always be given to screen backlight, WiFi hotspot and of course, connected peripherals. Connecting USB peripherals can be a big power drain. High environmental temperature can also increase battery drain rates.
The test system is running 88 process after boot-up according to Task Manager. The environment here is a normal office-like 21 degrees.
Samsung claim 6.1 hours battery life for the 900X1B.
Full specifications, news links, images and videos for the Samsung 900X1B available here.