Keyboards. What a nightmare to review! Everyone has different fingers and a different typing style but is generally unable to test multiple keyboards before they make a purchase. When you're investing $1000 in a laptop, you want to know you're getting a good one!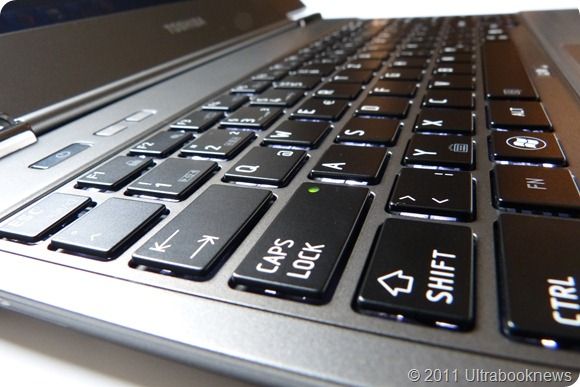 I've just spent about 4 hours finishing up the full review of the Acer Aspire S3 (an honest and good-value Ultrabook, full review going up as the next post)  and I took the unique chance to write different sections of the review with three different Ultrabooks.
The Asus UX31 and the Toshiba Z830 joined the Acer S3 in my keyboard test today and it was interesting to note the results. My fingers are telling me that the ASUS UX31 is the hardest of the three to type on, at least for me. A dose more concentration and a little bit more pressure seem to be required than the other two devices. The Acer S3 was accurate and totally usable and as someone that writes a lot, I wouldn't have too many issues with it. My Wife may have one though as it's a little 'clackety.'
The winner though was the keyboard on the Toshiba Z830. In just a few days I'm used to the slightly reduced depth of the keyboard area and I'm flying. It's quiet (which is more than I can say for the fan!,) has a great backlight and good contrast on the keycap printing. The dual-function keys are useful and the built-in keypad mode is great for my twice-per-day ALT-0128 Euro signs!
Update [start]
Arstechnica posted that the Z830 required a 'paradigm shift to type on.' Wow! See how different people have vastly different opinions when it comes to keyboards? Arstechnica reviewer was a Woman. No, that doesn't mean what you think; It means she had nails. That's a serious consideration for Women.
Engadget weren't too happy with the Z835 keyboard either. I wonder how much time they actually spent with it though.
Notebookreview say the Z835 keys " are perhaps easier than they should be to press."  but seem happy overall.
Interesting report from Laptopmag: " the keys felt somewhat stiff and shallow. There's not a lot of travel here. On the Ten Thumbs Typing test, we managed our average 80-word-per-minute speed but with a whopping 4-percent error rate (1-percent is our usual) due to the unresponsive keys."
Don't forget the Z830 keyboard is spill resistant. Toshiba have demonstrated 100ml of coffee being spilled but beware, that's a very small cup of coffee!
I'm getting the impression that i'm a very light-pressure typist. I'm also getting the impression that there aren't many reviewers out there that are spending a lot of time with the keyboards to see how quick the learning curve it. YES, there's a learning curve on the Z830/Z835 keyboard but for light typists, it's quick. For heavy typists, maybe the UX31 is a better choice.
Update [end]
As for the trackpad, I can't really say I have a preference although the ASUS UX31 trackpad (by Sentelic) is quite easy to 'drift' on. Fingers outside the mouse button regions can surprise you. The Acer S3 trackpad (by Elantech) is fine and it's easy to feel the corners of the pad for button presses. The Z830 trackpad (by Synaptics) has a separate mouse buttons which are great as finger locators but surprisingly hard to press. I'm getting along fine with tap-to-click and the trackpad setup though.
I can't call any of the keyboards I tested today 'bad' although having had some significant missed key-press issues on the Asus UX21 (11.6") I tested a few weeks ago my opinion is that ASUS need to pay attention to this for their next Ultrabook. The Samsung Series 9 though still remains the best Ultrabook keyboard I've tested to date. It's a peach and if it wasn't for a weak WiFi module I would probably be looking more closely at buying one.
I think the most important point though is that it took me a few hours to get a feel for the keyboards. Potential customers don't often get this opportunity so I hope articles like this give you a feel for how the keyboards are working out. Of course, we haven't tested the Lenovo U300s or the HP Folio yet. I'm expecting good things there but that test won't happen until 2012 now. I'll keep a good focus on keyboards and you can expect more commentary in the future.
Update
The Acer S3 review is finished and will go up on Monday morning. I've already started the review of the Z830. I'll also be trying to squeeze in a mini-review of the UX31 before the new year but we'll see how that goes as I'm considering taking it back and swapping it for a Z830 as my personal 1H 2012 Ultrabook. Don't forget the three-way live review we did on Friday! All review articles are now available on a single page, here.
One more note on the Toshiba Z830. I've been using it for about 4 hours non-stop now and haven't got annoyed by the buzzing fan noise. Why? I'm streaming Groove Salad instrumental downbeat music at a volume of 9% and it's covering the noise nicely. Because the built-in speakers are good, it's actually working out quite well for me. Maybe 'cloaking' is something to consider more seriously where noise is concerned. As a downbeat music fan, maybe this is an advantage!!!