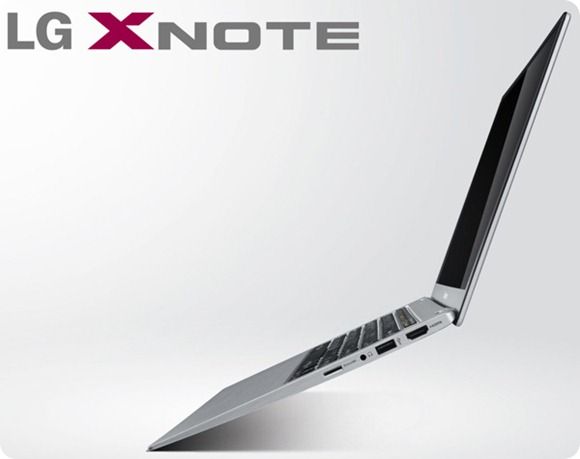 Our close blogging friends over at Netbooknews.de (We'll be working closely at CES in Jan) have what must be the first hands-on report for the LG Xnote Z330 Ultrabook. It's slim, attractive and comes in Core i5 and Core i7 versions, with a 128GB SSD. It will arrive on European shelves in Jan or Feb (Marketing talk for Feb!) for a reasonable, if not ground-breaking, price of 999 Euros. (Post-tax price.)
The special feature of the LG Xnote Z330 – you didn't expect an Ultrabook without a unique selling point did you? – is a cold-start boot of 10 seconds. Wooosh! That's going to need a fast BIOS and very fast SSD. It also comes with a Shuriken display which offers thinner bezel size and the panel self-refresh technology to reduce screen power usage.
Netbooknews have an English-language version of the hands-on video up and I've embedded it below. I'm also working on getting the Xnote Z330 into the database in the next few hours. I'll link it here when it's ready. In the meantime, here's a list of specs and following that, the hands-on video.
LG Xnote Z330 Specifications:
Model : Z330-GE55K / Z330-GE30K
OS: Windows7 Home Premium (64bit)
Display: 13.3" LED back-light display (1366×768)
Processor: Core i7 2637M 1.7GHz / Core i5 2467m 1.6GHz
RAM: 4GB
Graphics: Intel HD Graphics 3000
Storage: SSD 256GB (SATA3 6Gbps) / SSD 120GB (SATA3 6Gbps)
Network: Intel 802.11bgn 1×2 (up to 150Mbps)
Intel WiDi, Bluetooth 3.0 + HS (High speed)
Ports: USB3.0 (2x), MicroSD.
Size / Weight: 315 x 215 x 14.7 mm / 1.21 Kg
So….What do you think? Is the lack of full-size SD card slot going to be an issue?
Source Netbooknews.de