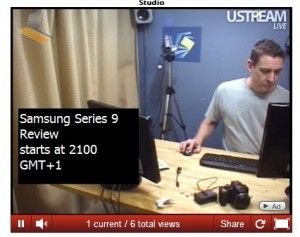 Sorry. The Session is over but you can already view some videos of the event at  Ustream. These videos will be going up to YouTube….
Update: Videos now available on YouTube. See this playlist.
We're Live at 2000 CET (Berlin.) Ultrabook News Update, Q&A, Samsung 900X1B Review.
Location: Ultrabooknews.com/live
Time: Your timezone details here.
Agenda:
2000: Ultrabook news update
2015: General Ultrabook Q&A
2030: Samsung 900X1B Uboxing, Overview
2045:-2200: Detailed Testing
Q&A sessions will be interleaved.
You can tune in, ask questions and steer the testing on Saturday 3rd Dec at 2100 MEZ/CET (Your timezone details here.) I'll be live for about 2 hours so please, drop in and join-in on Ultrabooknews.com/live .  Follow@ultrabooknews on Twitter for reminders.
Some parts of the show will be recorded.