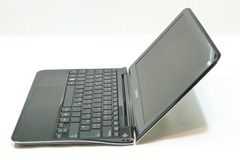 The live review and Q&A with the Samsung 900X1B went well on Saturday and we got through the 2 hours without any major issues or showstoppers cropping up. Battery life during the 2 hours was good at a projected 6hrs which included constant Wi-Fi and even some high-performance mode gaming. Wi-Fi, something that's been highlighted by others as an issue on the 900X1B was stable but in a test across a couple of walls to a remote hotspot we confirmed that the throughput was poor. That's the only potential issue on the 900X1B, the rest of the device was perfect, as long as you don't mind those mini and micro ports and adaptors.
The 900X1B looks great, feels solid, performs well, is surprisingly efficient, light, quiet, has an amazing screen and keyboard and with no moving parts is a real contender for an ultra-portable. Only the power adaptor annoys. At 300gm it's heavier and bigger than it needs to be. You might find a lighter power pack that would be more useful on a day away from the mains power.
The 900X1B is also available with a Core i5 1.6Ghz CPU and 128GB storage for a more carefree user experience and the prices have come down recently although it remains a premium product.
As usual, the live review was captured on video. Quality isn't exactly HD but if you're close to buying a Series 9 or considering a UX21, I really recommend watching. In fact, in my opinion, the 900X1B beats the Asus UX21 and is a good contender in the ultra-portable space.