Prefer your Ultrabook in two separate parts for portability between big-screen desks? Fancy being ahead of the curve on touch-enabled Ultrabooks? The Samsung Series 7 Slate (XE700) is a tablet you need to pay attention too. After months of waiting (we did our first tests on this back in September) it's shipping and you can expect a range of reports from various sites next week.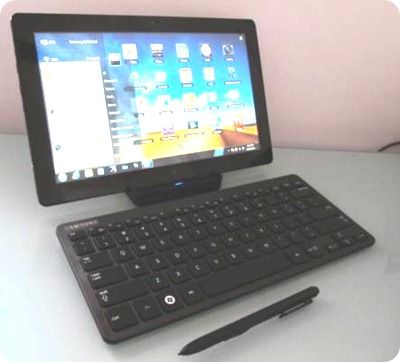 First up is a tweet that got me jealous. Mobile-device fan and owner of last years ASUS EP121 Slate from Genghiskent who had his delivered a few days ago. I'm in contact with him to get some thoughts soon but do keep an eye on his blog.
We've got news coming from Samsung Germany next week on a review sample but if you want some info today, check out Liliputing where Brad has just posted some first thoughts. I hope he has the chance to run up a Windows 8 Preview on it!
The first thing I note is that  Samsung will ship this without the keyboard in the USA where in Europe, it appears to be shipping with the keyboard. Update: It could be that the low-end version in the USA ships without the keyboard and that the more expensive versions with 128GB ship with the keyboard.
Our Series 7 XE700 performance testing article is here and the Samsung XE700 specifications and more links are here.
Source: Liliputing