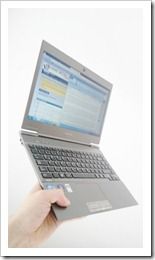 The Toshiba Satellite Z830 (Z830-10J, Core i5) is here and the waiting is finally over. This is one of the most popular of the Ultrabooks out there right now due to its feature set, weight and, in the USA, an interesting price on the Core i3 version. I've unboxed it on video for you below but wanted to also give you a heads-up on the Live Review that will be run tomorrow, Friday the 16th at 2100 CET (Berlin, Your local time is listed here.) You can drop into the live review, watch the video, chat with people in the chat room and also ask me questions on the Z830 and Ultrabooks in general.
Some Toshiba Z830 first impressions and an unboxing video below.
In terms of 'first impressions' I have to be honest and say I'm disappointed with one aspect of the Z830 so much that it may have knocked it off position #1 for me. As I type this in power-saving mode with an average power drain of a netbook-like 7W there's no heat on the device at at all but the fan is buzzing away louder than any portable PC I've ever tested. Others have reported the same; Others have also reported that they don't have annoying fan noise so it looks like QC on the fan itself needs to be stepped up. Maybe Toshiba can work some magic via BIOS or firmware but as it is, this Z830 I have here is no good for quiet-room work.
Apart from that it's fantastic and I'm impressed with the weight and battery life which, right now, is showing about 7hrs Wi-Fi on typing capability. The keyboard backlight is great to have and the Wifi seems strong. The theoretical disk speeds, something I was worried about, don't appear to be affecting normal usage in any way.  The keyboard is a little different in terms of vertical size but it's not causing any problems here. Screen flex is there and it wobbles a bit but I don't see that as an issue. Trackpad buttons are a little harder to press than others which might disappoint some people.
In general, the Z830 is going to be a great device….as long as you get one with a good fan or are not planning on working in a quiet room.
Join me in Friday to talk more about the Z830, drop some thoughts or questions in the Z830/Z835 forum or comment below.