If you want a laugh at a spin on some good news this morning, read the story that Apples share of the Ultrabook market will fall. When you own nearly 100% of the market and you get your first competitors, the only way to go is down. the good news is that sales numbers, the important figures, will rise.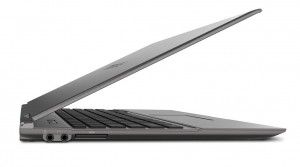 The prediction for 2011 MacBook Air sales is 6.3 million which is based on the MacBook Air accounting for 49% of Apple Notebook sales – way above my estimates of 3.5 million which, in-turn, were based on Morgan Stanley's 28% estimation.
In 2012, ISI predicts approximately 40% increase in MBA sales.
As other types of thin and light devices feed in, and expect AMD and Cedar Trail-based devices to appear, the market will get busy. But how busy?
I think ISI have vastly underestimated the numbers.
ISI predicts 10 million non-apple Ultrabook-style device sales (note they are talking about a wider range of Ultrabook-style products) in 2012, nowhere near the 100 million target that Intel originally predicted and lower than my own estimates of 50 million. I think ISI are way under the mark at 10m. Given unofficial shipping (I know, not sales) numbers from Acer, the total Ultrabook market is likely to hitting 1million per month before end of Q1. Why? HP, LG and Lenovo Ultrabooks are hitting shelves now, CES buzz will grow awareness, Dell will launch an Ultrabook and as the total cost of design, parts and production drop rapidly you'll see second tier manufacturers kick off production. Expect high-end netbooks to turn thin-and-light for the $400 SSD-based experience and expect AMD and their customers to slot in the middle at $500. By the end of the year true Ultrabooks will start at below $700 and it could be that the cost of designing, sourcing, producing, shipping, storing and supporting Ultrabook drops to a point where the old style laptops become a more expensive, and probably more niche, proposition. At that point, Ultrabooks start to become the norm. Oh, Windows 8 is likely to help too!
10 million ultrabook-style devices? Too low!