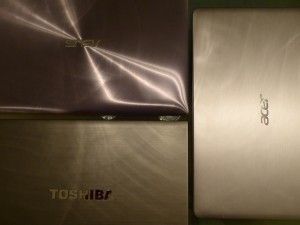 We had a monster session with three Ultrabooks this evening. Thanks to all that joined and contributed.
The live videos are available below.
There's an hour of videos here but they are split into, hopefuly, bite-sized secitions. As usual, the quality isn't high becuase they are recorded from the live stream but there's a ton of information in there.
You'll see a 'Working facia' overview of screen, keyboard and touchpad, a gaming FPS test, am overview of the Toshiba Z830 and Asus UX31, a boot speed test, some good detail about the heat and Turbo Boost capabilities and tons more. I'll be writing some more information up over the next few days. You'll also see a full review of the Acer S3, the Toshiba Z830 and, if I have time before I break for the holidays, the ASUS UX31 which is likely to be my final choice as a personal Ultrabook for my CES coverage in Jan.