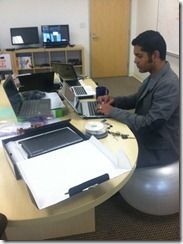 In a brief Facebook update today Bluestacks, the company that makes an Android app 'player' for X86-based PCs, has alluded to an Ultrabook-related announcement at CES.
Update: Bluestacks demonstrated on an Ultrabook at CES.
No more information has been given but it wouldn't be wrong to consider that they might have had a bit of funding from the Intel Capital Ultrabook fund and that they're preparing an Ultrabook-optimised Android application player (Hypervisor to give it its correct term) for Ultrabooks. Take the thought one stage further and wouldn't it be interesting if they teamed up with Intel's AppUp team to support application payment and download in one place. the idea has legs but may take a while to bring to fruition.
Of course this is all my speculation at this stage but doesn't this announcement make it sound like they're working hard with Intel?
"Getting some not-yet-released Ultrabooks loaded up for CES in Las Vegas, where we'll be making an announcement…"
It's probably worth following them on Facebook for further updates.