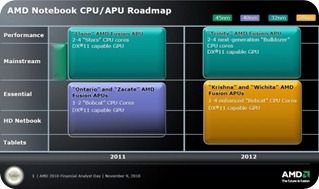 I don't put question marks at the end of an article unless I really don't know. In this case I really don't know if AMD can enable an Ultrabook-like device.
There are talks of a 17W TDP Trinity CPU with the same processing power as the 2011 A-Series and that sounds fantastic although I'm yet to see any real figures. The only conclusion I have come to in my research was what I wrote in December –
AMD were planning a new platform called 'Deccan' which would have delivered 2 or 4-core Wichita CPUs in a TDP of 20W but that appears to have been shelved now with 40nm Brazos 2.0 comprising updated Zacate APU with HD7000 Series graphics now taking its place in Q1 2012 according to CPU World. This is likely to be what we'll see in Jan.
Call it Trinity with Piledriver cores if you like but at 17W TDP but it would be a big jump up from the current E-series (in terms of CPU processing power) and a long way down the TDP ladder from the current Llano offerings; so much so that I suspect that we'll see relatively poor CPU performance combined with impressive GPU performance. While that might be good for gaming demos at CES, it might not be the right balance for an Ultrabook competitor, especially when you consider some of the other technologies going into the Ultrabook platform.
Look at it from the other direction. Lenovo will have a $699 Ultrabook this year and it's likely that Core i3 Ultrabooks will dip below that as Ivy Bridge device launch in Q3. What space does that leave AMD for a cheap Ultrabook-a-like? The only way for a manufacturer to beat that would be to take AMD and reduce the quality of the end product. 399-599 is the space AMD need to play in.
The likely scenario, and this isn't a bad thing at all, is a home-focused ultra-light. Lower CPU requirements, HDD, quality plastics instead of metals and a boost over the processing power levels that we see on the E-series Fusion platform to enable a web and media-focused all-rounder. The Lenovo S205 and HP Dm1Z were great value devices for many markets and represent exactly where the 'netbook' should be now and where AMD will probably end up with their customers ultrathin designs.
Image via PCMag