Step into a German newsagents, look at the magazine rack and you'll find more testing notes than in a NASA launch sequence. That's why I pay attention to the German tech press – they know how to analyse a product. Chip.de is one of the more well-know computer magazines in Germany and as you'd expect, they've got early hands-on with the HP Envy 14 Spectre that will be available in Germany in March for about €1400. It's a sample unit rather than a final retail build but it's unlikely to be very different to the final retail version. The article is obviously in German and you can read it via Google Translate but let me highlight a few things for you.
Firstly, we see a 4.1ah battery. It must be a 4-cell series pack as Chip.de are quoting 58Wh, great sizing for an Ultrabook (although you'd expect it on a 1.8KG heavy device.) Update: It states 4-cell in the report. It looks like the battery is easily replaceable too. Although it's not a quick swap-out job, it looks like it's set-up to be done by the owner.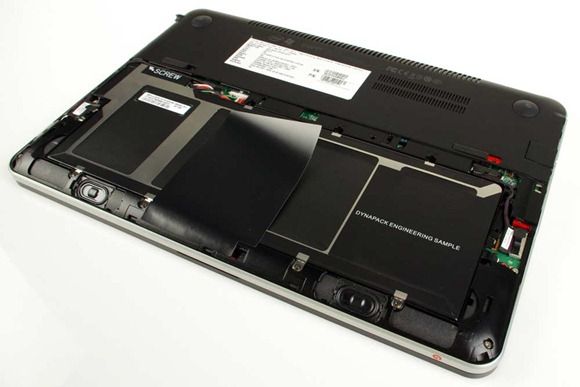 HP are only planning one model of the Envy 14 Spectre in Germany which, in my opinion, isn't a major disadvantage although there's an indication that other models will be available if you read HP's specification page. Core i5 with 128GB storage is a good average though. I don't see too much advantage with the Core i7 over the i5 given the Turbo gets restricted based on thermals. You might have expected more storage for the price though. Storage is based on the good Samsung 128GB SSD that we've seen in the Series 9.
On one side you've got a smart looking device with a 1600×900 display, a big battery and a lot of ports. On the other you've got one of the heaviest, most-expensive Ultrabooks there is.
What do you think?
Chip.de have a photo-set and video on the article so go check it out.