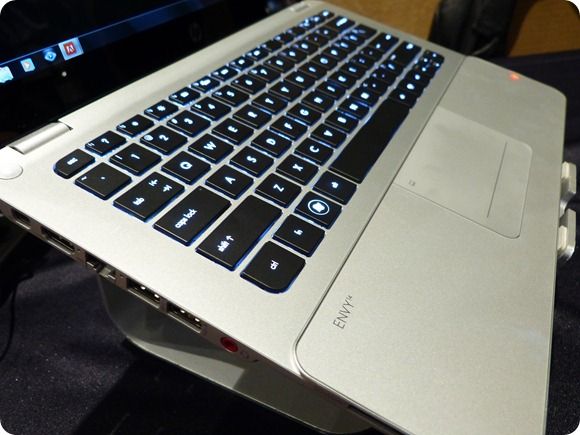 Three manufacturers have launched Ultrabook devices at CES that sit below premium version of their thin-and-light laptops and in some cases, their premium Ultrabooks I take this as an indication that the Ultrabook design and build method is spreading into wider laptop categories.
HP have the Folio 13 Ultrabook at the 'budget' end of their thin and light range but are also pushing the HP Envy 14 Spectre which is a rather expensive device clearly aimed at those that have a relatively unrestricted buying choice. I wasn't able to spend too much time with it but I took some pics which might help you make the decision. It's either this or the Series 9 if you're looking in that part of the market.
We've got the full Hp Envy 14 Spectre specifications in the database here but the key features are the 1600×900 Gorilla Glass screen, Beats audio, 'up to 9hrs' battery life, Display Port and Wi-Di capability
More images of the HP Envy 14 Spectre in the UMPCPortal gallery.