The Intel Smartphone is here at CES and we've just had hands-on. It's running a Medfield-based platform (Intel Atom Z2460 – 1.6Ghz with Hyperthreading) with Android 2.x
The design is a certified reference design connected to the AT&T network here and the Android build includes all the Google goodness too. We tested a few apps and responsiveness was good. The phone comes with micro-USB and micro-HDMI ports and the video is hardware accelerated. The 4 inch 1024×600 screen doesn't make the design at all bulky.
As for performance, we're getting the idea that this could be a scorcher. A Sunspider test here resulted in 1290ms – and remember that's with Android 2.x. We saw some video and game demos too and they were all smooth. Scroll down for a video hands-on with the Intel Smartphone.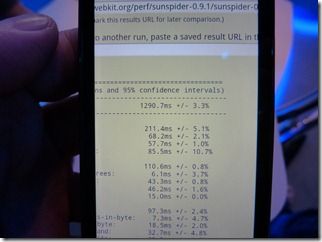 Hands On Video