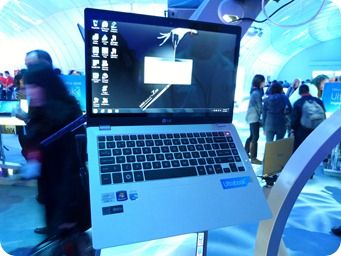 I finally had a chance to get a little more time with the LG Xnote Z330 this morning at Intels CES booth which, incidentally, must be 50% Ultrabook-focused. Unfortunately the LG Xnote Z330 was attached to a stand but I had a chance to look round it.
it's a beautiful Ultrabook and follows similar lines as the Zenbook range from ASUS although the materials used aren't as thick and all-metallic. The keyboard felt a little cheap if I'm honest and had the vertically squashed feel that the Toshiba Z830 has but there was good feedback. I wasn't able to type anything as the device was locked down.
There's a good set of ports although I'm no fan of micro SDHC. Is anyone?
Take a look at the video though and let me know what you think.