If you have been following any of my musings on gaming (over on my personal blog or via my Twitter feed), you know that the past year has presented me with a challenge in keeping up with the latest and greatest. With little time left for gaming after attending to classwork and my day job, I have found a good deal of solace in the availability of A-Class titles that are now present in the Android Market. At the start of 2011, Android was not, in my opinion, a viable gaming proposition. There were few titles, and the market was plagued with problems due to the variance in hardware that the mobile developers were faced with.
As 2011 approached an end, that tide turned. There are many titles availbale in the market that will keep an avid gamer busy, and enough variation that gamers are not forced to play genres that normally do not interest them just so that they have something to play. Below are some of my thoughts and philosophical perspectives on gaming on Android as one of my primary gaming platforms, as well as a list of my ten current favorite titles.
Just so you have a sense of my gaming background before I run through this list of titles, I have been gaming for 35 years. I started when my father brought home the Magnavox Odyssey, a Pong-system that was the first TV video game system that sold at retail in North America. I "grew up" on Pong, KC Munchkin, Space Harrier, Vectorman, Panzer Dragoon, Soul Caliber, Tekken Tag Tournament, Halo, Project Gotham Racing 3, and Resistance: Fall of Man. In between jaunts on a lot of consoles, I have also done a lot of PC Gaming, including the likes of Falcon 4.0, The Sims, Half-Life 2, Unreal Tournament, Baldur's Gate 2, Icewind Dale, Homeworld, and Warhammer 40,000: Dawn of War. The point being, my tastes run a fair gamut and are not satisfied by a diet of casual games only.
I am sure that some readers will pshaw the thought of gaming on a tablet or other mobile device. They might vehemently declare that any gaming on these platforms is significantly beneath any gaming that you could do on a console or PC. And I might even partially agree with them. I, too, used to believe that gaming in a mobile OS was only worthwhile if you were stuck standing in line somewhere. This strong support of mobile OS gaming that I am now feeling is based on its convenience. My life is compressed for time, as I am sure everyone's is.
Gaming on a tablet means that I can game during a study break in my home office and not take the time to go downstairs to the media room or the basement home theatre to fire up the PS3, or bring up a PC. Even if one of those systems were in my home office where I study, there are too few titles that I can get into and out of in 30 minutes without being worried about being sucked in for more time than I can afford.
Through plumbing some of the depth that there is available in gaming on Android, I have discovered titles that I can play for 5 to 15 minutes and get out of, as well as titles that can offer an hour or two in a single sitting when that time is available. The key for me is that those titles do not have to go for that hour or two if that is time I do not have, because most of the titles that I am playing have short levels or very well designed save points. It actually greatly surprises me that Android games often have better save points than some of the ones that I see in full console retail games.
With that being said, here are my current top ten favorite Android games:
httpv://www.youtube.com/watch?v=8vVDl5LXVeY
Apparatus [$2.45 / Free (Lite)] — As an Engineer, I find immense joy in trying to figure out these mechanical and physics-based puzzles. The first few levels just require an understanding of geometry. From there the game quickly progresses you to a point where you need to intuitively understand inertia, relative motion, and gravity. Nothing in my undergrad Statics class prepared me for some of the challenges presented by this tinkerer's dream.
httpv://www.youtube.com/watch?v=0P0B9ThYrlA
Battle Group [$0.99] — I spent my time at sea, and was really surprised to see how well this game's basic gameplay maps to the tactical paradigms that I was trained to embrace. Defense-in-depth, fields of fire, and other tenets of air defense come to play in this replica of air warfare at sea. The game cradles you a bit by leaving you to not have to worry about maneuvering your Battle Group, but most players will have enough to focus on in trying to defeat the waves of maneuvering aircraft, sea-skimming missiles, and low-slow flyers.
httpv://www.youtube.com/watch?v=B9RnTud0Rhs
Can Knockdown 2 [$0.99] — This is a pretty simplistic physics-based game and definitely falls into the casual category. Still, there is a golf-like elation akin to hitting a great drive when you tag a can popped up from a pipe on its way back down. There are a few different challenge modes, including stationary cans, pop-up cans that are analogous to shooting skeet, and a timed-mode. I cannot say that you will get a ton of time out of this one. Once you set your initial all-time records, it is unlikely that you will make significant threshold changes in score, but it is still fun trying to eke out that one or two extra points over your old high-score.
httpv://www.youtube.com/watch?v=u7eSq8YRZdU
Fieldrunners HD [$2.99] — You can check out my mini-review over on my personal blog. Simply put, this is one of my two favorite Android Tower Defense games (the second is also in this list).
httpv://www.youtube.com/watch?v=7TVZkfqHNBc
Great Little War Game [$2.99] — When I downloaded this, I thought that it would be a challenge that I would quickly surmount. Not so. While not quite as deep as a PC turn-based strategy game, a game of GLWG can take a couple of hours for some of the more challenging maps. There are many maps that have control points that will change hands many times, and mounting a combined arms offensive (or defensive) with the maps' limited resources is no small feat. Be prepared to be forced to consider how to sacrifice certain resources and units for the greater overall strategic effort in order to grind through this game's skirmishes.
httpv://www.youtube.com/watch?v=TntE55pN_Qc
Guerilla Bob THD [$3.99 / Free (Lite)] – if you played bottoms-up scrolling shooters from the past, then this title will tickle your fancy. Big explosions and cheesy one-liners will take you back to the 80s, but with a little more visual flair. The sound on this title is also no slouch. You can check out a vid of the gameplay over on my YouTube channel (the video has audio problems, but at least you can see the game running on a 23″ monitor).
httpv://www.youtube.com/watch?v=GxjETrX3LOM
MiniSquadron Special [$2.99] – The gameplay in this title is almost so simple that I questioned posting it to my top-ten list. But again, this list is a good bit about titles that are quick to get into, have some determinisitic fun, and get out.
httpv://www.youtube.com/watch?v=rP7Xn8_vo84
Riptide GP [$2.99] — Like a lot of stunt driving games, part of the joy in this title is that you never really know exactly what stunts you are going to try and pull off, how they are going to look, and how they are going to turn out. I have quickly soured on games that only offer tilt controls without offering a touch-screen control scheme as an option, but for some reason I give Riptide a pass on this element. Truth is, in this title, being forced to tilt adds to the randomness inherent in how a race turns out, and I do not feel that tilting the screen constantly removes my ability to appreciate the game's visuals, which is typically my problem with tilt-control games.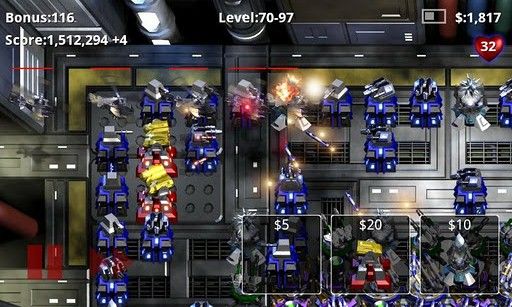 Robo Defense [$2.99 / Free (Lite)] — I say that this is my second-favorite Android Tower Defense title, and that may not quite be fair. The truth is that the eye-candy and audio in Field Runners is more refined than it is in Robo Defense, and that counts for some points with me. Field Runners is more fun to sit and watch once you have your death-trap maze established. But I will admit hat Robo Defense is deeper, with the equivalent of achievements that you can earn to upgrade the capability of your towers. There are also some deeper branches that you can implement in various towers, such as turning machine-gun towers into Flame-thrower towers or AA-gun Towers.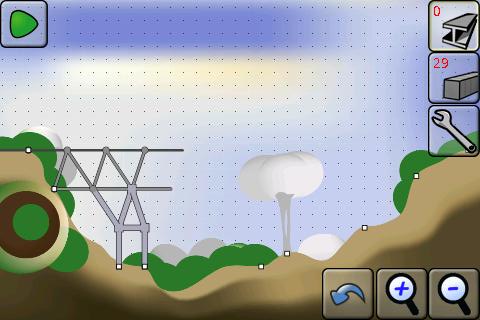 X Construction [$1.49 / Free (Lite)]  — Another engineer's joy; you have to figure out how to rig the components that you are given to support a train crossing a given obstacle. Many is the time that I thought I understood how my static construct would react to forces imparted from a mass moving across it to find out…not so much. Even when you screw one of the levels up, though, you are learning something, so the title returns some enjoyment pretty much all of the time. I cannot say the same about every console title I have played in the past year.
So that's the list of ten. I mentioned a term above, deterministic fun, that is pertinent to my feelings on Android gaming. Regardless of grammatical correctness, this a term I started applying last year to define the gaming experience that I was looking for. What I mean by it is the knowledge that I am definitely going to have fun with a title when I fire it up and commit to playing it for 30 minutes. It also means that I know, or at least strongly feel, that there is a very good chance that I will have progressed somewhat in the game after that 30 minutes of time. The requirement for this characteristic to exist for any given title that I was going to play while classes were in session is what led to me playing a lot more Need for Speed Hot Pursuit than Uncharted or Battlefield Bad Company, for instance, on my consoles. In the latter two, more story-driven titles, there is less of a chance that I am going to definitively have fun and make some measurable progress in a single 30 minute session. I recognize the difference in value-judgements that I am making; this characteristic is not an overall value metric that I place on a title. In other words, I am not saying that quick, episodic gaming experiences are more valuable overall than story-driven, thread oriented or acr-driven, gaming titles, and I hope to get back to games where there is more risk involved for potentially greater reward in terms of time invested. Once school is over.
Right now, if I am going to play something over a 30 minute study-break, I need to be damned sure that that time is going to yield more fun than just frustration. More than anything, that is maybe the reason I have been spending more and more of the limited gaming time that I have available in Android than on my PS3, PSP, or my gaming PCs. The big thing is that gaming for me is a permanent hobby that I never want to leave. But unless I find some means to stay hooked into it on some platform then I am liable to leave it behind and it will be a struggle to get back to it. My main point in this article is that, a year ago, Android would not have been able to provide that outlet. If you have not dipped your toe into Android gaming because you feel it cannot hold your attention as effectively as a console or PC title, I would recommend you give one or two titles another go. Also, keep in mind that these are the titles that offer me the outlet to get in and get out in 30 minutes or less. I have about 35 titles in Android gaming, and some of them, like NOVA 2, Dungeon Defenders, and DGunners SP, go deeper and offer lengthier gaming experiences. There is a lot that Android offers now for gamers, and even if it just for gaming on the go or while on travel, there might be something out there that can hold your attention for a bit.
(Drafted on my Acer Iconia Tab A500 in Beautiful Notes)