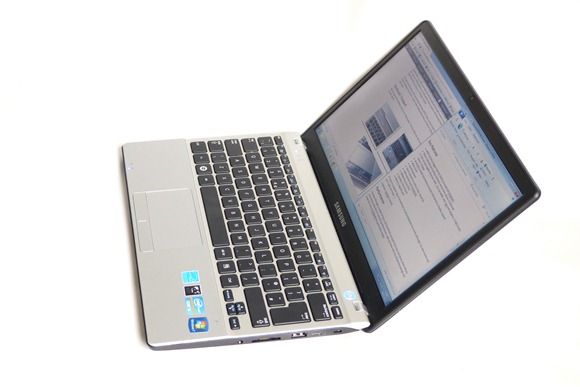 Before we get into the detail on the Samsung NP350 I need to make it clear that I bought the Core i3 (2.2Ghz) version in the UK for a pre-tax price of about £370 (pre-tax business purchase price that equates to under $600 in the USA) In the UK, Ultrabooks start at around £680. The price differential isn't so pronounced in other countries. E.g. In the USA, the Core i5 version of the NP350 is around $700 (where Ultrabooks start at $800) Having said that, the NP350 offers features that match, and in some cases beat Ultrabooks. I've bought the NP350 for use over the next months while i wait for the next wave of Ultrabooks and will be using it for blogging, video production, image editing, storage and as my day-to-day desktop.
Update: The original article had a battery capacity calculation error. Please see the correct figures in the battery testing section below.
Note: In the UK, the Amazon price is up by £100 now. Keep an eye out for offers.
Model tested: NP350U2B
Full specifications and information links in the database.
Samsung NP350 Unboxing, Overview
For those that like to kick back with a video, check out my unboxing and overview video embedded below.
Full specifications and information links in the database.
Key features
60Wh battery is bigger than the battery in nearly all Ultrabooks

Correction: We made a mistake on the battery capacity. It's 47Wh, not 60Wh. Battery life figures have been updated below.

Plastic materials and styling nothing to write home about. Functional and good for a plastic casing though.

Ports include Gigabit Ethernet, SDHC, full-size HDMI, mini-vga with adaptor, 2 USB2.0 with Sleep 'n Charge

Good Wi-Fi module and antenna includes Intel Wireless Display support

Matt screen

Good keyboard

Silent operation in office mode. Quiet fan.

1.4KG matches some Ultrabooks

600GB drive (not SSD)

Fast Boot, Fast Resume

Memory upgrade port
If I have to complain about something It would probably be the screen although I've seen worse and can't really call it bad.
Keyboard, Trackpad, Screen
There are better keyboards out there. The Samsung Series 9 keyboard, for example, is better than the keyboard on the NP350 but I don't rate this as a bad keyboard by a long shot. It beats the UX21, UX31 and Acer S3 and for many it will have a better feel that the Z830 keyboard. There's enough travel and the keys aren't wobbly or mushy. If the NP350 keyboard had a backlight it would be a complete winner but unfortunately it hasn't.
The screen is the one item on the NP30 that I would call cheap. It certainly doesn't win any brightness or viewing angle awards. It's got a matt finish though and at the correct viewing angle the blacks are black and the colours are OK. I don't see how anyone could moan about the screen although there's always room for improvement. The screen doesn't lean back further than 45 degrees.
Performance
I've been through a number of tests with the NP350 and apart from the hard drive which affects some test results the CPU and GPU performance is right up there with the Ultrabook average and beats the Core i3 Ultrabooks by quite some margin. The Elantech touchpad isn't giving any problems either. In over a week I haven't experienced any pointer jumping or other issues with either the mouse or the keyboard.

Samsung NP350 PCMark7: 1960
The result beats the Acer Aspire S3 but falls behind the SSD-based devices.
Toshiba Z830 PCMark7: 2885
Acer Aspire S3 PCMark7:1967
Samsung 900X1B (Core i3) PCMark7: 2508
Asus UX21 (Core i7) PCMark7: 3358

Samsung NP350 3DMark: 3332
The Samsung NP350 beats the Aspire S3 and 900X1b (Core i3.) According to scores around the net, it falls short of the performance on Core i7-based Ultrabooks
Acer Aspire S3 (Core i5): 2784 3DMarks
Samsung 900X1b (Core i3): 2373 3DMarks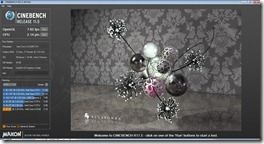 Samsung NP350 Cinebench Open GL: 7.62
Toshiba Z830 8.36 fps
Acer Aspire S3: 7.51 fps
Samsung NP350 Cinebench CPU: 2.14
The CPU scores beat all Ultrabooks:
Toshiba Z830 (Core i5): 1.89
Acer Aspire S3 (Core i5): 1.63
Samsung 900X1B (Core i3):  1.25
ASUS UX21 (Core i7): 2.11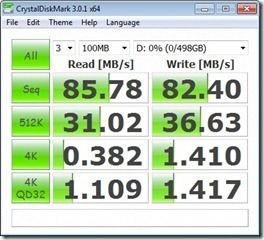 Disk speeds are better than the Acer Aspire S3 but nothing compared to SSD-based results from Ultrabooks. The Samsung NP350 would benefit from an SSD retro-fit.
Full specifications and information links in the database.
Cold boot speed
You probably won't be booting the NP350 from cold much because standby works so well. it won't stay in standby for as long as some Ultrabooks but in one week of use I haven't rebooted the NP350 a single time. Return from hibernate is not as fast as on Ultrabooks.
Return from standby – 3 seconds + 3 seconds for Wi-Fi
Cold Boot – 50 seconds until login prompt. Disk stays busy for a minute or two after login as is the case with all hard-disk based Windows systems.
Starting up Cyberlink PowerDirector, a large video editing suite, takes many times longer on the NP350 than it does on an SSD-based device.
Hard disk speed is the main difference between the performance of the NP350 and average Ultrabook performance.
Battery Life
The Samsung NP350 has a battery drain range between 4 and 45W. It's a huge range but it's nice to know that office work remains down in the 10W area with Chrome-based browsing tests resulting in an average 7.5W drain on a clean system.
Note: Original tests were done over short-term periods with the figures calculated against a 60Wh battery capacity drain. This was an error and has been corrected below and in the detailed battery testing article based on the correct battery capcity figure of 47Wh
Streaming audio (screen on low, Wi-Fi) 7W drain = over 8hrs 6.7hrs
Web Working (balanced power mode, multiple web applications) 7.5W drain = up to 8hrs 6hrs
Office Scenario (balance power mode, MS Office, Chrome, Windows Live Writer, YouTube playing 10W = 6hrs 4.7hrs
Video Conversion using Cyberlink Media Espresso (and Intel video conversion hardware) 17W-36W = Under 2 hours in high-performance mode.
You can see some more detail in a separate article here where I compare 'mobile' with 'ultra low voltage' CPUs
Heat and Noise
Overall I've been impressed with the heat and noise. There's no annoying buzz or electrical noise and in normal use (I'm in balanced mode under mains power right now) the fan is normally off. Naturally there's a fair bit of air movement when the device is draining 40+ watts of power but it does it in a relatively graceful way.)
Other notes
Wi-Fi reception quality and throughput is better than average.
Bluetooth 3.0+HS is useful if you have a compatible device
Audio quality from speakers is OK but not up with the best on-board speakers
1080p YouTube – No problem
Non removable battery
Summary
The Samsung NP350 is a true, lower-cost alternative to an Ultrabook that offers the same CPU, GPU, battery life and weight figures. The hard disk comes with plently of storage space but doesn't match the performance of the SSD-only Ultrabooks. While there are cheaper Core i3 devices, it's difficult to find one that is so mobile, has the 2.2Ghz clock and, at least in the UK when I bought it, a great price.
Model tested: NP350U2B