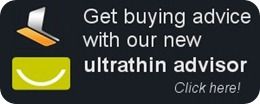 Over the last 6 years of product blogging I've always believed that  professional product blogs should be niche, run by experts and focused on guiding people to solutions rather than just being an open information and advertising platform. It's the reason I started building a product database just months after launching my first product blog in 2006. That product database has become a great reference, a focal point for external review and information links, a conversation channel and for me, one of my most important revenue channels. Without it, I wouldn't be blogging professionally.
I've always wanted to add two things to that database though. I wanted to add current pricing and a web-based advisor. While I try to map readers to products as much as I can through my articles, providing a separate channel to map readers to solutions has proved beyond my means. Until now.
You can imagine how pleased I am today to be launching a web-based advisor that links your requirements to current products and pricing via my own expert knowledge.
Click through and have a go. See if there's a product out there that matches your requirements.
The tool should be self-explanatory and should neatly guide the average user through a simple or extended question-set to a list of products and prices. We're currently using Amazon and their marketplace to bring you offers from the U.S.A, Germany and United Kingdom. We've mapped all the available Ultrabooks and in the near future we'll be adding all the ultrathin laptops we have in our database. The service is currently targeted at the desktop browser user but some testers have reported good results with various mobile browsers. We're working to improve that.
This advisor has been made possible by some very smart people at a company called Larovo in Germany who took the idea of online buying guides and added expert knowledge.  This is not an automated tool driven by product specifications and page hit counts, it's a complex mapping and ranking of questions to products. Through our partnership we've put tools and knowledge together in a way that benefits everyone.
Naturally we're very keen to have your thoughts on this so we can improve it so feel free to leave your feedback below. As mentioned, I'll be adding all ultrathin devices to the system in the near future and I'll let you know when that's live. In the meantime, enjoy! If you make a purchase through the system, be sure to let us know how it turns out and of course, thanks!