Apple now have a series of patents for the MacBook Air 'ornamental design' and we're wondering just how much this could impact Ultrabook design in the future. When you see approvals for layouts such as the one below, you have to wonder!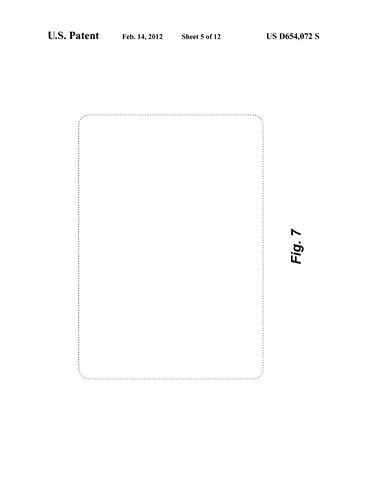 Yes, you're looking at a featureless rectangle that was approved two days ago as Patent US D654072.
To be serious though the image is only part of the complete design shown in the patent (and we assume all images are interdependent on the others to form the actual design) and  if you put them together you've got the 2010 MacBook Air.
The Patent is linked to previous patents that were approved for the MacBook Air which show previous designs so clearly we're talking about a very specific design here. Despite the featureless rectangle, It certainly doesn't look generic to me. Mashable takes an alternative view to try and stir up some viewers.
There's another question that needs to be answered though. How much of the MacBook Air design is reliant on Intel patents? The MBA only exists because of an Intel product and I will bet my arm on the fact that Intel engineers were involved with helping Apple get the MBA designed around the silicon and making sure the thermal design was correct before the silicon was publicly available.
Apple may have a lot of money to throw around but when their design is 100% reliant on someone else's design, you've got to be careful how you start fighting in the patent wars.