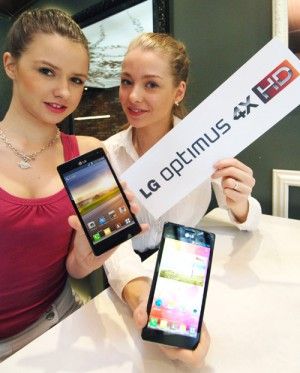 LG has announced, and will be showing off at MWC (starting tomorrow), the Optimus 4X HD. This is LG's first quad-core phone and uses the Nvidia Tegra 3 platform. It's likely that we'll see a number of Tegra 3 smartphones announced and shown at MWC this year. Tegra 3 has actually been on the market for a few months in the form of the Asus Transformer Prime, but we've yet to see it available in phone-form.
I'm happy to report that the Optimus 4X HD comes pre-installed with Android 4.0 Ice Cream Sandwich which will help really make use of the 1.5GHz quad-core CPU which is equipped with 1GB of RAM. There is 16GB of in-built memory, and the screen is a monster 4.7″ 1280x720p IPS display which, if anything like the LG Spectrum's screen, is sure to please in terms of colors and sharpness. There's an 8MP camera on the back and a 1.3MP camera in the front. Additionally, the phone is equipped with 4G LTE; LG will have to be really careful with this phone to ensure that it has reasonable battery life. The battery capacity is 2150mAh.
Chippy is on the show floor at MWC starting tomorrow, stay tuned for more!