It looks like this article from The Verge is more of a 'must comment' than a 'must read' but I encourage you to do both. Fellow tech blogger Joanna Stern has published a review of the MacBook Air running Windows.
If any of you are still here after seeing the link, go back and read some of the comments. There's a huge, and sometimes over-excited, comments section. One thing is for sure, the Ultrabook sector is clearly a HOT topic.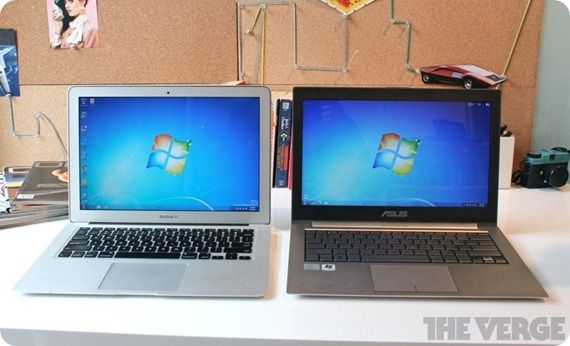 And the result of this Windows-on-Apple experiment was….good and bad.
The Apple MacBook Air (2011) hardware has always been something special. The keyboard, screen and trackpad are really best-in-class. The efficiency is amazing. The design, iconic. A hat-tip has to go to Intel too because you don't design a device like this without close interworking on thermals, dimensions and driver optimizations with the silicon producer. I have a gut feeling that Apple aren't suing left right and center because so much of the design was down to Intel. Time will tell on that hunch.
Back to the article – The Verge is reporting good performance alongside great hardware support but there's a massive, massive [can I say it again] massive problem. Actually two. Both of them give me reason to say 'walk on, there's nothing to see here' to nearly all of you.
This set-up is costing significant battery life and hundreds of dollars above an Ultrabook solution to achieve.  Battery life and price are the two  most important figures for most customers in this sector. The discussion is great but for most, the solution is a no-go.
In comparison with the original, OS X version of the MBA you could lose 2 hrs of battery life. Roughly put, the original MBA has 50% more battery life than the Windows hack in The Verge's test.  In comparison with an ASUS UX31, you'll be looking at 1hr less battery life. The figures are debatable, yes, but bad.  On the cost side it looks even worse because you've got a $1500 figure to contend with after you've bought the MBA and the required software. That cost doesn't include time.
For some, it's worth it to have the dual-use MBA/Windows scenario but for others, the issues are a massive roadblock. $1500 for a Core i5, 4GB RAM and 128GB? Too much.
The MBA as Windows 7 'Ultrabook' is a no-go for most but there are lessons that should have been learnt already. Keyboard, trackpad and screen quality for example. The Ultrabook market needs to see MBA quality hardware with Windows 7, and soon. The next-gen MBA is looming and if the price of the MBA drops and the quality rises, the competition could have problems. For us, the consumers, reduced competition is a very bad thing.
Have you tried the Windows/MBA solution? If so, let us know your thoughts below.