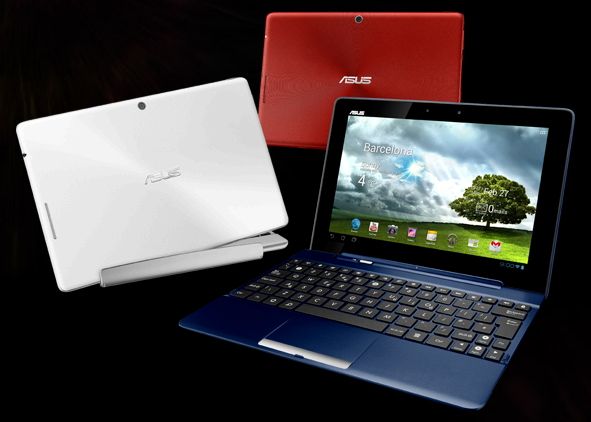 Asus has taken the wraps off of the Eee Pad Transformer 300 series at MWC today. This model was leaked last month, and while the series (300) name led us to believe that this would be a full upgrade from the Transformer Prime (200), it seems like Asus is actually trying to create a more affordable mainstream version of the Transformer Prime. Here's an intro video from Chippy with his hands on the Asus Eee Pad 300 series:
httpv://www.youtube.com/watch?v=ogknMQfehyc
The Eee Pad Transformer 300 is based on the quad-core Nvidia Tegra 3 platform and running Android 4.0 Ice Cream Sandwich, just like the Transformer Prime, but lacks some of the premium materials found on previous versions of the Transformer. There's also new colors available (white, blue, and red) to spice up the look a bit. As with the other Transformers, the keyboard dock on the Transformer 300 is optional, though it isn't clear if there is interoperability between the keyboard of previous generations and that of the 300 series.
Chippy suspected from his hands-on with the Transformer 300 that Asus is aiming for cheaper prices and mainstream adoption. I think we can conclude that this is the case; Asus specifically mentions that the Transformer 300 is "the ideal tablet for anyone buying on a budget, and for those looking to get more out of their tablet." We'll see just how low Asus can price the Transformer 300, but it's great to know that they plan to offer a device with the latest Nvidia Tegra 3 platform and a mainstream price.
No word on exactly what the Transformer 300 price or release date is just yet, but Chippy has his feet on the ground in the heart of MWC and will surely relay it back to us at here Carrypad HQ if he hears anything about it. You can see Asus' Transformer 300 mini-site here.
Here is the most detailed list of specifications for the Transformer 300 that Asus has yet released:
Operating
System
Android™ 4.0 Ice Cream Sandwich (ICS)
CPU
—————
NVIDIA® Tegra® 3 T30L Quad-Core @1.2GHz
GPU
—————
GeForce® 12-core, 3D stereo (built-in)
Memory/
Storage
—————
RAM:1GB / ROM:16GB
Networking
—————
Wifi/3G/4G LTE
Data rate:
a. 3G SKU: HSPA+ 21/5.76 Mbps
b. 4G LTE SKU: 100/50 Mbps
Connectivity
—————
802.11 b/g/n, Bluetooth v3.0
Display
—————
10.1″ WXGA (1280 × 800) LED Backlight 178° wide viewing angle IPS panel,
10 finger multi-touch
Camera
—————
8MP auto-focus (rear), 1.2MP ( front ) camera with F/2.2 large aperture
Interface
—————
2-in-1 Audio Jack (head-out/MIC-in 2-in-1)
1 × micro-D HDMI 1.4a port / 1 × microSD Card Reader / built-in microphone /
High Quality Speakers
Battery
—————
10 hours; 22Wh Li-polymer;
15 hours with mobile dock; Dock: 16.5Wh Li-polymer
Keyboard
—————
Mobile dock with full QWERTY Keyboard (Optional)