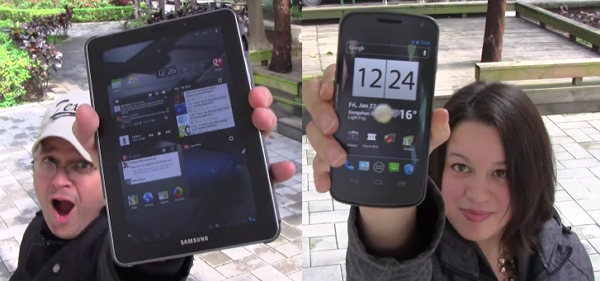 If you're like me, having a computer, tablet, and smartphone in your life is too redundant to justify. I prefer a two-device lifestyle. And while my computer-supplement of choice is a smartphone, there are many out there who enjoy the advantages of a tablet and choose it as their go-to mobile device. You wouldn't believe how much our very own Chippy gets done on his 7″ Samsung Galaxy Tab!
Our friends Nicole Scott and Sascha Pallenberg, of NetbookNews.com and NetbookNews.de respectively, have put together an entertaining usability comparison video featuring two of the hottest devices in the tablet and smartphone categories — the Samsung Galaxy Nexus and Samsung Galaxy Tab 7.7:
httpv://www.youtube.com/watch?v=Lnqs5zMDtRc
While Sascha and Nicole's test uses somewhat unscientific criteria ("tray-ability"?!), their video brings up a great question: if you're a two-device person, is a smartphone or tablet your second device, and why?