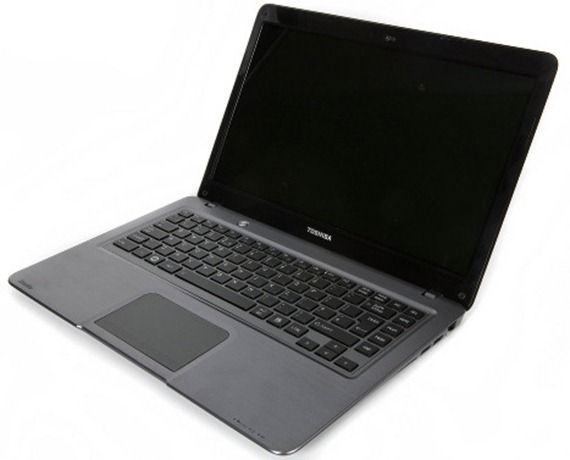 I'm somewhat surprised to see this news today. Toshiba Australia are officially offering the Toshiba Satellite U840 Ultrabook for sale on their website. Why am I surprised? Because Toshiba USA showed us the device at CES in January and said it was due in Q3.  Clearly Toshiba already have the device ready and Toshiba USA really only spoke for their region.
Update: U840 is now in our database where we're tracking new information as we find it.
Here's what the U840 looked like at CES last month…
The U840 at CES – although we didn't know it was the U840 then!
Looking good, but not over-stylish, the U840 is clearly targeted, again, at the business sector.  Main specifications follow the 2011 norm but details are as follows:
Core i5-2467M 1.60GHz – 2.30GHz (Sandy Bridge)

Windows® 7 Home Premium

14.0″ Widescreen HD LED Backlit Display (1366×768)

8GB DDR3

Hybrid 320GB (5400rpm) + 16GB SSD

2 x USB 2.0 & 1 x USB 3.0

10/100Mbps LAN [really? The Z830 has 1000Mbps]

SD card slot

802.11(b/g/n)

V3.0 + EDR (Enhanced Data Rate)

1.73kg

Battery capacity unknown (6-cell)

Backlit, spill-resistant keyboard

Part number: PSU4RA-00Q00C
Questions: Removable battery? Wi-Di? Availability?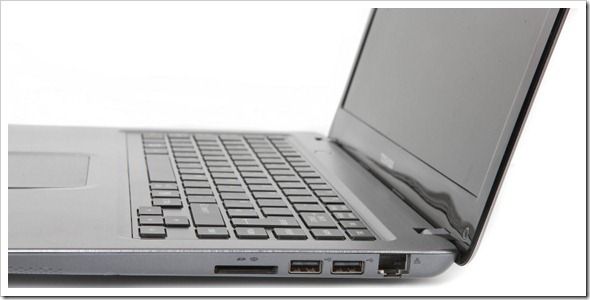 Clearly this is targeting similar territory to the Samsung Series 5 14" although there's no optical drive on this one. One hopes, ney prays, that the 1.73kg weight includes a huge huge battery otherwise there will be questions asked! The 14" 1366×768 screen is a questionable choice too.
Mainstream business and bulk sales to IT departments could be the name of the game here.
Price (including tax) 1500 AU$ = US$ 1614 (about US$1460 before Australian good and sales tax)
Update: Toshiba Singapore have also announced the U840 where a lighter, 1.57KG SSD-only version is promised. Battery life is quoted as 8hrs.
As mentioned above, don't expect this in the USA soon but we'll let you know when it pops up in America and Europe. Let us know in the comments if you see it in your country. We can't find it on the Toshiba Japanese website yet.
Via ABT
Source: Toshiba Australia