Update: 9th May 2012. The 14″ Ultrabook will be the Lifebook U772
We're at the Fujitsu Press conference on Day 0 of CeBIT and we've just been handed a flyer showing two new Ultrabooks.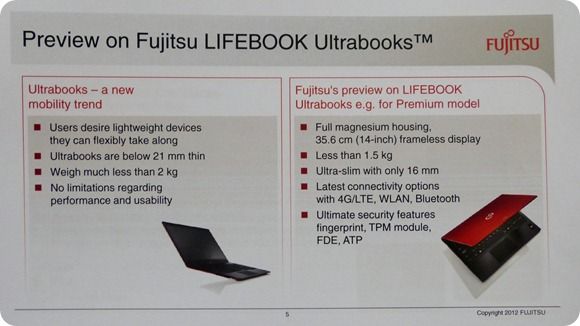 We're about to see the real deal in a minute….
So we're talking about a 16mm Ultrabook running Ivy Bridge (expected later this year) with a weight of 1.4KG or less and a 14" edge-to-edge screen which looks fantastic. (See images below.) LTE/3G is planned and we've also spotted a docking connector (or possible slate battery expander) on the underside of the device. It's magnesium all over and feels great. Unfortunately it's a daummy device so it's not functional and the keyboard mechanism is not installed.
Despite that, this is looking fantastic and with LTE/3G will defiantely be one of the first ultra-mobile Ultrabooks on the market.
Fingers crossed for 1600×900 screen!
Here's the hands-on video….
A few close-ups coming below…