We stumbled across a new Ultrabook on Day 0 (set-up day) of CeBIT in Germany.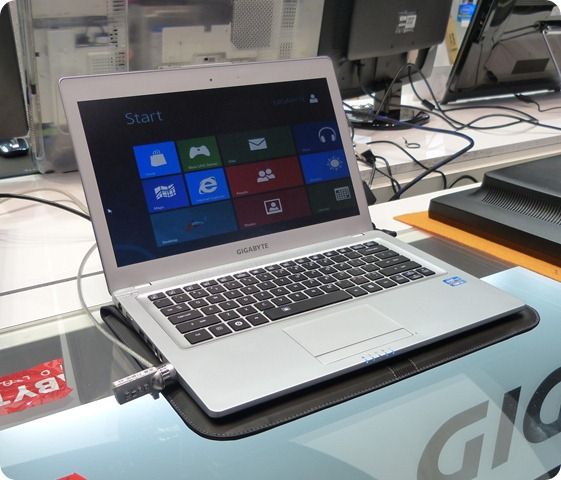 This is the Gigabyte U2442 U/V Ultra Pro Book from gigabyte that's launching at CeBIT this week. Based on the fact that it was taken off the booth after we took the pics and video, below, it looks like it's not happening today!
There are some very interesting specs to consider here.
1600×900 13.3" 14″ screen. SSD options up to 512GB (HDD to 1TB) Ivy BridgeCore i5-3320 in 17W or 24W TDP modes (2.6Ghz for the 'mobile' version and we suspect 1.8Ghz for the ultra-mobile version) and discreet GPU – the Nvidia GT640M.  There's also a back-lit keyboard, 4 USB ports (2xUSB3.0) HDMI, mini display port and VGA. Full SD card slot of also provided and there's a Centrino 2xxx series (dual-antenna) wifi module inside which should provide Wi-Di capability.
The design will be ready for Ivy Bridge in May but release obviously depends on CPU availability.
In a quick hands on I didn't feel top quality materials or keyboard and the mouse pad was 'dimpled' which was a new feeling for me. Windows 8 is being shown here (without the required graphics drivers so the resolution of 800×600 we saw wasn't too thrilling!)
Target price: $1000 for the base version but of course, nothing is fixed at the moment. We'll probably have to wait until Computex to get final prices and dates for availability.